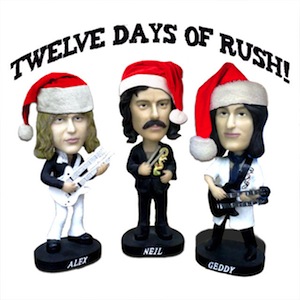 With the approach of the Holidays, things have been pretty quiet on the Rush news front this past week. Rush has been running their 12 Days of Rush daily giveaway since last Friday and will continue to do so right up until Christmas next week. Speaking of which, there are only 5 more shopping days left! Rush has a lot of great swag available this year including the Clockwork Angels Tour concert video, Vapor Trails Remixed and the Atlantic-era box set. Check out all of the Rush merchandise available on Amazon here, and make sure all the Rush fans in your life (including yourself!) have all the Rush swag they need under the Christmas tree come next Wednesday. While keeping on the subject of the Holidays, Clockwork Angels Tour made the Pittsburgh Post-Gazette's 2013 holiday gift guide for music lovers; and Ultimate Classic Rock's writers posted a list of what they want for Christmas from rock's greatest bands, including Rush. Ted Asregadoo wants the band to play Cygnus X-1 Book II: Hemispheres in its entirety, and Dave Swanson wants the band to knock out a blistering, straight to the gut hard rock album in the vein of their 1974 debut and their second offering Fly By Night. Speaking of Rush's debut, Loudwire.com included Working Man at #9 on their list of the Best Metal Riffs of the 1970s (thanks ou812112).
The band has been keeping a low profile since the release of Clockwork Angels Tour last month, but both Geddy and Alex took some time out last weekend to attend the Anchorman 2: The Legend Continues U.S. premiere in New York City. The pair were spotted at an after party at Cipriani 42nd Street Sunday evening. Geddy was sporting a fake Ron Burgundy mustache-on-a-stick as seen in this Access Atlanta photo gallery, and Alex Lifeson and his wife can be seen in this Getty Images photo. Anchorman 2 released this past Wednesday, December 18th. One of the film's stars is actor Paul Rudd, who also starred in 2009's I Love You Man in which Rush appeared.
Speaking of new movies, in celebration of the recent release of The Hobbit: The Desolation of Smaug, VH1 posted their list of 10 Classic Hard Rock Songs That Pay Homage To The Hobbit (thanks Sean) this past week. Both Rush's The Necromancer and Rivendell made the cut.
The Rock and Roll Hall of Fame announced their inductees for the 2014 class earlier this week. Rush was of course inducted earlier this year as part of the 2013 class, so Rush fans finally didn't have anything to complain about. Fans of Yes and Deep Purple did though; both of these bands were snubbed this go-around despite a lot of popular support (both bands made the top 5 on the Rock Hall's fan ballot). Prog-rock pioneers Yes are one of Rush's biggest influences, and both Geddy Lee and Alex Lifeson indicated in recent interviews that they had voted for Yes on their 2014 inductee ballots along with Deep Purple (as former inductees Rush was eligible to vote). Yes bassist Chris Squire was interviewed for K-Earth 101 last week and was asked about the Rock Hall nomination. He mentioned that if Yes was chosen for induction he'd like to have Rush give the induction speech (a moot point now). Although Yes and Deep Purple didn't make the cut, Rush's long-snubbed, 70s-era tourmates KISS will be inducted along with Nirvana and Peter Gabriel. As early touring mates, Rush and KISS developed a deep friendship and respect for one another, despite playing very different styles of music. KISS frontman Gene Simmons was interviewed for Rolling Stone following the induction announcement. The interviewer mentioned how KISS helped Rush out early in their career by bringing them on tour with them, and how much credit Rush gave them for this:
Well, to take a Canadian band on their first tour in America was like, "Who?" But as soon as I heard "Working Man" and heard Geddy [Lee] sing. I was like, "What the hell? This is like a Canadian Led Zeppelin!"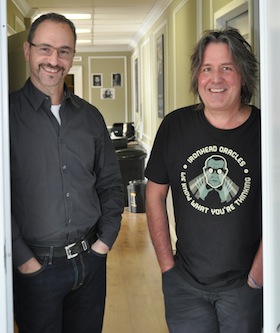 Paul at the Canadian Music Scene recently sat down with Allan Weinrib and Dale Heslip of Fadoo Productions for an interview where the pair give the behind-the-scenes scoop on all of Rush's tour videos. Fadoo Productions are responsible for Rush's last several tour videos and Geddy's brother Allan is the Head of Production. If you ever wondered who played Koogle in the Time Machine Tour video, or where the name Harry Satchel came from, then you are in for a treat. Allan and Dale describe how they come up with all of the crazy ideas expressed in Rush's tour videos, how the band weighs in on the decisions, and what it takes to make these ideas a reality. The interview contains several hilarious anecdotes and a bunch of great behind-the-scenes photos. Be sure to check it out online here.
Rush monitor engineer Brent Carpenter posted a 1-hour and 18-minute tutorial video to educational website Lynda.com earlier this week. The instructional video is titled Live Sound Engineering Techniques: On Tour with Rush with Brent Carpenter. From the tutorial's description:
Follow along with Brent Carpenter on tour with Rush, as he demonstrates what it is like to be a live sound engineer for a major rock show. We shadow Brent and the Rush sound crew as they prepare for the Denver, Colorado, show on their Clockwork Angels tour, where the band is set to perform for 12,000 fans. After the gear is loaded into the venue, Brent explains how he and the crew set up the rigging, amp racks, and fly the speaker arrays to make sure well-balanced stereo sound reaches every seat in the arena. He also shows how he sets up his console to mix the onstage sound for Geddy Lee, Alex Lifeson, and Neil Peart and configures the in-ear monitor system and balance of audience mics for each member of the band. Then we get to sit backstage with Brent and watch what he does during line check, sound check, and the actual show. After the fans file out, see how all the equipment comes back down and is packed away so the cycle can start all over in the next city. ...
The tutorial in split up into multiple sections, most of which require a Lynda.com membership to view. But the introduction and a select number of other sections are free to preview. You can check it out online here, and see one of the free preview videos on YouTube where Brent goes over miking Neil's kit here.
Rush and Philosophy: Heart and Mind United co-editor Durrell Bowman has a new Rush book in the works titled Experiencing Rush: A Listener's Companion which is slated for a 2014 release. Bowman has posted an outline of the book to his website here. Bowman is a musicologist who has written several essays on Rush and their music.
Speaking of books, in last week's Friday Rush updates post I'd mentioned that photographer Deirdre O'Callaghan is putting together a new book called The Drum Thing. The project announced Wednesday via Twitter that Neil Peart will be writing the foreword. The planned book will contain collections of photographs and interviews with some of the drum world's biggest names including Neil Peart. O'Callaghan is appealing for funding to finish off the project through a Kickstarter campaign located here. In addition to helping to get the book into production, your pledge will get you some cool extras including launch invites, signed swag and more, depending on how much you contribute. For all the details, preview photos/videos and more, check out the Kickstarter campaign page.

This past Friday motorcycle equipment company Aerostich sent out an email newsletter which includes some words from spokesman Neil Peart where he talks about being a satisfied customer of their original Transit jacket and pants. Their online store is currently offering 30% off these items, and you can check out all the details online here (thanks Power Windows).
Brad Birzer at Progarchy.com wrote a great retrospective piece on Rush's Power Windows album this past week titled Power Windows: Rush and Excellence against Conformity. And Rush's Counterparts made VH1 Music's list/gallery of Metal's 10 Biggest Grunge Makeovers.
It's that time of year again! Since tomorrow is the first day of Winter (and also International Rush Day), I thought we could all benefit from some winter advice from Geddy Lee!
That's all for this week. Have a merry Christmas, wonderful Winter Solstice and happy Rush Day everyone!!