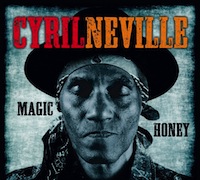 Cyril Neville is the youngest member of the Neville Brothers - the legendary first family of New Orleans R&B - and back on September 10th he released a solo album titled Magic Honey that includes a bluesey cover version of Rush's Working Man. Earlier this week he released an official video for the song which you can check out below or on YouTube here. Neville's son turned him on to the song and he's been closing out his live shows with it as he describes here:
... "My son Omari turned me on to that song," says Neville. "It wound up on my CD Magic Honey, and now we do it in the Royal Southern Brotherhood, closing out the show every night. We've been rocking houses from one end of Europe to the other with it." ...
You can order your copy of Magic Honey here. It's also available on iTunes as well, and you can purchase the Working Man track individually for download here. Thanks to RushFanForever for the heads up.