UPDATE - 12/11@8:14PM:

Joe P has a copy of the book and provided some scans of Alex's foreword which you can check out here. Engler also tells a story about one of Rush's 1975 Pittsburgh shows opening for KISS at the Stanly Theatre.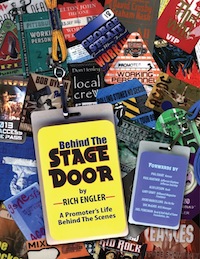 Concert promoter Rich Engler has published a new book titled Behind the Stage Door: A Promoter's Life Behind the Scenes. The book contains stories from Engler's career as a Pittsburgh-based concert promoter, and includes over 300 photos, posters, and admats from his personal collection. The book also includes a foreword by Rush's Alex Lifeson. For more information and details on how to purchase the book, visit Engler's website here. Thanks to Joe P for the heads up.