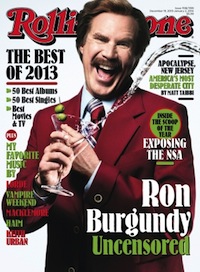 The latest issue of Rolling Stone magazine contains a feature on page 10 where several well-known artists share their current favorite songs, albums and music videos. One of the artists featured is Geddy Lee who describes 5 of his favorite songs/artists:
The Who - My Generation

So much of what I wanted to do when I was growing up was fashioned after listening to The Who. The bass is almost the lead instrument here, and that speaks to me, obviously.

Fleet Foxes - Your Protector

I've spent so much time listening to this. I'm moved by the unusual melody and harmony structures, the production and the great singing.

Björk - Isobel

This is a beautiful song. Björk's voice just slays me. I love how much emotion she brings to her songs, even when I don't understand what she's singing about - which is quite often.

Led Zeppelin - Communication Breakdown

I'll never forget us sitting around my room in 1969, listening to this song. We were blown away. Zep started a heaviness that didn't really exist before that.

Jethro Tull - Thick as a Brick

I know this betrays me as the progger I am, buy it was such a favorite piece of music for so many, many years. It was just pure prog magic. To me, it was the ultimate thing to aspire to.
You can check out a snapshot of the article here (thanks Paul V).