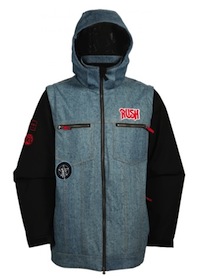 Canadian snowboard outfitter RipZone has teamed up with Rush to create a limited edition, denim snowboard jacket. From the website description:
Music goes hand in hand with Snowboarding. Just like beer and hockey, Canadians and flannel, Pam and silicone, cops and donuts. As Ripzone celebrates the 20th anniversary as a Canadian snowboard brand, RPZN has joined forces with Canada's biggest music icon: Rush. Inspired by some classic Canadian style from back in the day, the RPZN x Rush jacket is inspired by cut-off jean vests, complete with simulated leather jacket underneath. Mullet not included. Who didn't rock this look, eh?

This jacket is adorned with official Rush artwork. The interior features original album artwork printed in full-colour on a sateen liner. RPZN and Rush branding appears in the form of vintage inspired crests, blending with the look and feel of this rock-n-roll garment. RPZN has brought all the outerwear features you have come to know and love, making this a true technical jacket.
A limited quantity of the jackets are now available via the RipZone website and other snowboard clothing and equipment retailers. Thanks to Kelly P for the heads up.