UPDATE - 10/16@1:00PM: The preview clip has been updated and is now the full clip. Check it out below or on SoundCloud.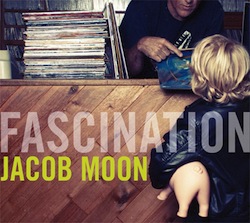 Canadian folk musician Jacob Moon will soon be releasing a new CD titled Fascination which will include covers of Rush's Limelight and Subdivisions. The album is slated for release sometime next month and can now be pre-ordered via making a pledge at Kapipal or RocketHub. The album will also include covers of songs from Yes, Marillion, Radiohead and Peter Gabriel, along with two new original songs. Jacob recorded Limelight with the Alex Lifeson-produced David Barrett Trio and has posted a minute-and-a-half preview clip to Soundcloud which you can listen to below or at this link (thanks RushFanForever).
You can check out some in-studio footage where Jacob and David talk about The Trio's work with Alex Lifeson, the Limelight recording and more at this link. Jacob Moon garnered the attention of Rush and their fans when he posted a YouTube video of himself performing an impressive rooftop solo rendition of Rush's Subdivisions a few years ago. The video quickly went viral, and Rush later asked Jacob to perform the song at their Canadian Songwriters Hall of Fame induction ceremony back in March of 2010.