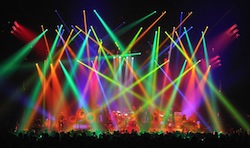 Rush lighting director Howard Ungerleider was recently interviewed by Live Design Magazine where he spoke a little about the band's use of Clay Paky Sharpy light fixtures on the band's recently-completed Clockwork Angels tour:
... "We had 55 Sharpys on the tour for the duration," says Howard Ungerleider, lighting designer for Rush. "Sharpys are one of the most versatile and exciting lighting fixtures I've used in a while. I can really get a lot of looks out of them. I definitely work them without over-using them." ...
The article goes on to describe how the fixtures were used in a few specific songs from the band's set including Red Sector A, The Body Electric, The Pass and The Wreckers. You can check out the entire article online at this link.