UPDATE - 9/5@9:35AM: Amazon is now listing the release date as October 1st on their website, adding to the confusion.
UPDATE - 9/3@3:32PM: Audio Fidelity has informed me that these should ship within the next ten days. Apparently the shipment was held up in Austria, but has now arrived in the U.S.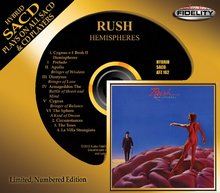 Audio Fidelity's SACD (Super Audio CD) version of Rush's Hemispheres had been scheduled for release today, but it now looks like it has been pushed out at least one week. Amazon and other online retailers had been listing the release date as September 3rd for the past few weeks, but Amazon now has it listed as temporarily out of stock while Music Direct lists the release for September 10th, and CD Universe is showing a release date of September 17th. The listing for the SACD at the Audio Fidelity website also still reports it as coming soon. If anyone has actually received a copy of the SACD, please let us know. More information as I learn it. You can pre-order your copy of the Hemispheres SACD at this location. Audio Fidelity released an SACD version of Counterparts earlier this year.