UPDATE - 8/8@11:38PM: Here's Clockwork Angels: The Novel author Kevin J. Anderson's report on the show that he posted to his blog.
UPDATE - 8/4@12:23AM: Here's a gallery of photos that was posted over at Cygnus-X1.net, and here's a review and photo gallery from Reverb.
UPDATE - 8/3@8:09AM: The band played the Night A - version 4 set and official photos are already posted over at Rush.com.
UPDATE - 8/2@11:45PM: Eric from Power Windows is at the show and through the first set it looks like they are playing the Night A - version 4 set.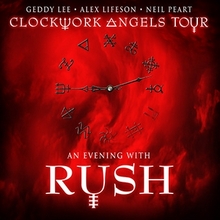 Rush flies the Clockwork Angels tour airship to the Mile-High City of Denver tonight to play the Pepsi Center for the 2nd to last stop of the 2013 tour. The band is due to play one of their Night A sets for tonight's crowd. I'll post confirmation of this as soon as I learn about it. Owner/chef of Denver restaurant Coohill's is a huge Rush fans and will be attending the show tonight. He wrote a piece for Reverb yesterday talking about why Rush is his favorite band which you can check out here. And reader Todd V spotted Geddy and Alex out to dinner with Matt Stone at Frasca in Boulder last night. For everyone going to the show tonight, have fun, stay safe, and be sure to share your photos, videos and reports with us. Rush!!!!!
Date/Time: Friday, August 2nd @ 7:30PM (9:30PM EST)
Show Number: 36
Venue: Pepsi Center
Place: Denver, CO
gallery: [view] [upload] [YouTube videos]
reviews: [reviews] [setlist]