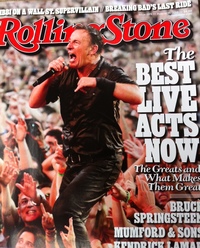 The latest edition of Rolling Stone magazine (issue #1189, August 15th) is starting to hit subscribers' mailboxes and the issue contains a feature where a panel of experts have compiled a list of the 50 greatest live acts right now. The cover tagline reads The Best Live Acts Now: The Greats and What Makes Them Great. Rush made the list at #39 as shown in this scan. The list was also posted online at this location (thanks James B). The print edition just lists Rush at #39 with no accompanying commentary, but the online post says the following:
39. Rush: Four decades into their career, Geddy, Alex and Neil still put on the same kind of incredible show that destroyed pot smoke-clogged arenas back in the Seventies, mixing oldies like "The Spirit of Radio" and "Subdivisions" big chunks of their excellent 2012 album Clockwork Angels. Neil Peart, now 60, remains the single greatest drummer alive and guitarist Alex Lifeson is almost as versatile and powerful as the dude sitting at the massive kit behind him. "Every song rates a standing ovation," says Metallica manager Cliff Burnstein.

Showstopper: Rush don't play a single song from the 1970s during their main set, but in the encore they bust out three sections of their 1976 magnum opus 2112.
Thanks to lsorski for the heads up and scans.