UPDATE - 6/23@7:48PM: Here's a gallery of photos from John over at Cygnus-X1.net.
UPDATE - 6/22@9:41AM: Here's a review and photo gallery from The Patriot-News (thanks livestarmark).
UPDATE - 6/22@7:24AM: The final setlist was Night A - version 4 (thanks Kelly D and AnthemOwl), and official photos from the show are already posted at Rush.com.
UPDATE - 6/21@9:48PM: Intermission time and it looks like Night A - version 4 (thanks Kelly D and AnthemOwl).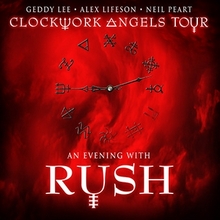 What better way to celebrate the first day of Summer than with a Rush concert?! Rush kicks off the summer leg of the Clockwork Angels tour tonight at the Giant Center in Hershey, PA. They'll play a total of 12 dates across the eastern US and Canada over the next several weeks before heading out west to close out the tour with a 6-show run beginning in late July. The band played their Night B set back on June 10th in Helsinki, so I'm guessing that the Hershey crowd will likely see one of the Night A sets. I'll post any setlist information as soon as I learn about it. For everyone who will be attending tonight's show, have fun, stay safe, and be sure to share your photos, videos and reports with us. A special shout-out to all the RatCon tailgaters. Rush is back in the US!!!!!
Date/Time: Friday, June 21st @ 7:30PM
Show Number: 20
Venue: Giant Center
Place: Hershey, PA
gallery: [view] [upload] [YouTube videos]
reviews: [reviews] [setlist]