UPDATE - 6/9@8:06PM: Here's a nice gallery of photos that was posted over at Cygnus-X1.net.
UPDATE - 6/9@2:30PM: Reader Sebastian also reported that - although there was no intermission - they did show the usual 2nd set intro video, The Appointment, just before Caravan.
UPDATE - 6/9@11:58AM: Reader Sebastian was at the show and says that Neil's The Percussor drum solo was not included in the set.
UPDATE - 6/9@9:32AM: Official photos from the Sweden Rock Festival have been posted at Rush.com. Paul Stanley of KISS ran into Geddy and Alex at the airport while they were coming in and KISS was leaving. He took this photo and posted it to the KISS Facebook page with this caption (thanks RushFanForever):
"When we were on the tarmac getting ready to take off from headlining our night at Sweden Rock Festival another private jet landed and I had to get off to greet and spend a few minutes catching up with the next night's headliners my long lost friends Alex and Geddy. Time flies and thankfully we're all still having fun!" - Paul
----- snip -----
UPDATE - 6/8@5:57PM: The show is over and, as expected, Rush played a shorter, truncated setlist with no intermission. You can view the setlist here, although I'm still trying to verify a couple of things such as whether the intro video was played and whether Neil's solo was kept intact.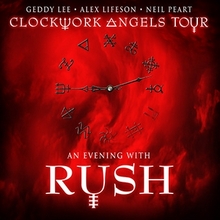 Tonight Rush brings the Clockwork Angels tour machine to the Sweden Rock Festival for their first European festival show in 34 years. The band is scheduled to hit the Festival Stage at 9:30PM and play until 11:45PM. This is consistent with rumors that they will be playing a truncated set rather than their standard 3-hour show, with no intermission and a reduced rig setup. If you are going to the show and are willing and able to send setlist reports during the concert, please let us know. From what I understand, the Festival is also being filmed - so it's possible some footage of Rush will see the light of day at some future date (possible bonus footage on the upcoming Clockwork Angels DVD?). For all of our European friends who will be attending the Festival tonight, have fun, be safe, and make sure to share your photos, videos and reports with us. RUUSSHH!!!
Date/Time: Saturday, June 8th @ 9:30PM (3:30PM EST)
Show Number: 18
Venue: Sweden Rock Festival
Place: Solvesborg, Sweden
gallery: [view] [upload] [YouTube videos]
reviews: [reviews] [setlist]