UPDATE - 5/3@9:27AM: Rush ended up losing in all 3 categories for which they were nominated (thanks RushFanForever).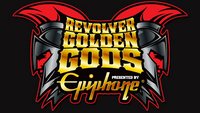 The fifth annual hard rock and heavy metal award show the Revolver Golden Gods takes place this evening at Club Nokia in downtown Los Angeles. Rush's Alex Lifeson, Neil Peart and Geddy Lee are up for the Best Guitarist, Best Drummer and Best Bassist awards respectively but obviously won't be attending the ceremony since they are on tour. Former Metallica bassist Jason Newsted is also up for Best Bassist and had some nice things to say about Geddy Lee in a recent interview at about the 1:30 mark (thanks Eric at Power Windows):
At last year's Golden Gods Awards ceremony Rush was presented with the Lifetime Achievement Award and Neil Peart attended to accept the award on behalf of the band.