UPDATE - 4/29@10:16AM: Here's a gallery of photos posted over at Cygnus-X1.net.
UPDATE - 4/29@7:03AM: Here's a review from Boca Raton magazine.
UPDATE - 4/27@9:31AM: Official photos from the show have been posted at Rush.com.
UPDATE - 4/26@11:30PM: The show is over and the final setlist was Night A - version 3. Many thanks for the live updates from marv3240 who also uploaded a bunch of photos to the tour gallery.
UPDATE - 4/26@10:49PM: They are finishing up the 2nd set and it now looks like Night A - version 3.
UPDATE - 4/26@9:35PM: They are still following Night A - version 1 3 songs into the 2nd set. Also of note - there are only 7 members in the string section tonight; Joel Derouin is not present.
UPDATE - 4/26@8:43PM: Almost through the first set and they are following Night A - version 1 (and versions 2, 3 and 5) so far. Thanks to marv3240 for the live updates!
UPDATE - 4/26@8:28PM: Although they were due to play a Night B set, through 6 songs they seem to be following some of their early Night A sets from last tour (thanks marv3240). Nothing that wasn't already played on the 2012 leg though. So we might get yet another version of the set tonight.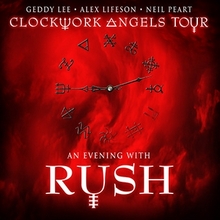 Rush takes the Clockwork Angels tour machine to the Sunshine State of Florida tonight for show #2 on the 2013 tour where they'll be playing the BB&T Center in Ft. Lauderdale. Reader Ronjul21121 sent along some photographic evidence that the Rush buses are in the house! (see above) Rush is due to play some version of their Night B setlist but it's always possible they might shake things up a little. If there are any major deviations or surprises to the set, I'll be sure to post them here. For everyone going to tonight's show, have fun, be safe and be sure to share your photos, videos and reports with us.
Date/Time: Friday, April 26th @ 7:30PM
Show Number: 2
Venue: BB&T Center
Place: Ft. Lauderdale, FL
gallery: [view] [upload] [YouTube videos]
reviews: [reviews] [setlist]