UPDATE - 4/23@2:06PM: John at Cygnus-X1.net has a pdf scan of the entire article available on his website.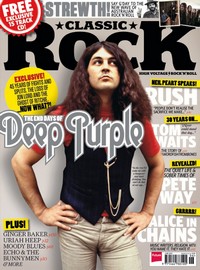 A new interview with Neil Peart is featured in the June, 2013 issue of Classic Rock magazine. Classic Rock posted an excerpt from the interview online earlier today and Neil discusses how he still feels totally betrayed by an NME journalist who interviewed him back in 1977:
... "I recall that NME interview very well because the conversation was great," Peart recalls in an interview in the forthcoming new edition of Classic Rock. "And we all felt totally betrayed after, because we had a lovely time with the guy. I remember him being so courteous. It was so amicable. As far as I was concerned, we were just having an intellectual conversation. But these things are wide open to misinterpretation, and that was a classic case." ...
He goes on to describe his current political philosophy:
... "I believe in taxation and health care that is outside the usual libertarian mandate, because I don't want people to have to suffer. It's as simple as that. If people are suffering and I can help, I want to. But here's the difference between being an idealist and a realist. Idealistically, I believe that we should help people. But realistically, do I think that government will do that? No."... "[Libertarianism is] enlightened self-interest. Free will. I've lived in the US for the last 10 years, and I wanted there to be a health care system. The little bit that there is, it's a wonderful thing. So that's an example of what I consider enlightened self-interest. That's why I'm a bleeding-heart libertarian. "Paul Theroux said: 'A cynic is a disappointed idealist.' But I'm not a cynic. I'm not disappointed. I've just broadened my idealism." ...
The new edition of Classic Rock containing the full interview goes on sale Wednesday, April 24.