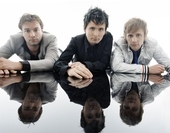 Muse played the Air Canada Center in Toronto this past Tuesday, April 9th and gave a shout-out to Rush and Geddy Lee during the band's encore:
... In an additional nod to their Canadian fans on hand, they also threw in some of Rush's "YYZ," which would have probably meant more if the crowd of 14,000 had actually picked up on it before Bellamy personally offered a Geddy Lee shout-out. ...
They played about the first 35 seconds of YYZ followed by frontman Matt Bellamy shouting Geddy Lee!. You can watch some YouTube video below or at this location (thanks graemeb).