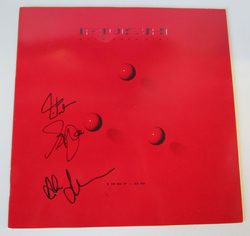 The Rush Backstage Club is running a new contest where you could win a Hold Your Fire tourbook signed by all 3 members of Rush. From the contest description:
This is a rare opportunity to win a very special RUSH collectible: A Rush Hold your Fire tourbook from the Hold Your Fire Tour, autographed by Geddy, Alex and Neil. Note, because this item is not brand new, it has aged with time and has a slight bit of noticeable wear. It is not damaged in any way whatsoever, but the winner should know that this item does show its "vintage" nature.
The contest closes on March 19th and only one entry per person is allowed. For all the details and to enter go to this location.