UPDATE - 2/8@10:12AM: The release date has once again been pushed back; the new release date is Tuesday, March 5th (thanks Scott G).
UPDATE - 1/16@10:36AM: It looks like the release date has now been pushed back to February 19th (thanks robertrobyn).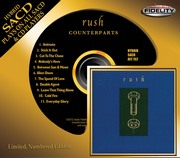 Back in November we learned that Audio Fidelity would be releasing a Super Audio CD (SACD) version of Rush's Counterparts. It was originally supposed to release last month but was delayed. The SACD is now listed at Amazon with a release date of Tuesday, January 22nd and is available for pre-order. For more information visit the Audio Fidelity website. Thanks to robertrobyn for the heads up.