UPDATE - 1/10@10:35AM: Here's the full minute-and-a-half opening sequence for the English version of the show which features a much longer version of the track (thanks Billy H). This arrangement of the track is also a different, more rock-oriented arrangement featuring guitar samples rather than the electronic bleeps as heard in the German version.
----- snip -----
UPDATE - 1/5@3:50PM: Here's a German trailer for the series that uses a longer version of the track as the backing music (thanks Chris from Calgary).
UPDATE - 1/3@11:42AM: According to cinema journalist Thierry Attard (thanks RushFanForever), the woman singing is Danielle Armstrong.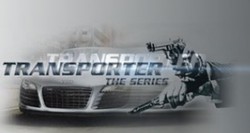 This report from The Canadian Press from yesterday indicates that a version of Rush's Working Man is used as the opening theme to the new HBO TV series Transporter (based on The Transporter films). The show premiered in Germany on October 11th and will kick off on HBO Canada tomorrow night. It premieres in the US this summer. The version of Working Man used is a new, barely recognizable electronica arrangement from Jamie Forsyth with a woman singing as heard in this video.