UPDATE - 12/6@9:31AM: Here's a review from Carter Biel at The Lofty Oaks.
UPDATE - 12/6@9:31AM: Here's a review from Carter Biel at The Lofty Oaks.
UPDATE - 12/2@10:38PM: Toronto Blue Jays manager John Gibbons went to the show and the Toronto Sun had a little write up about it in today's edition:
Blue Jays manager John Gibbons experienced the "thrill of a lifetime" Friday night. And he didn't even have to put on a uniform or leave his hometown of San Antonio. Gibbons took his wife and two children to a concert at the AT&T Center ... and then backstage to meet Geddy Lee and Alex Lifeson of the Toronto-based band Rush. "They were big down here when I was in high school, I always liked them," said Gibbons from San Antonio before leaving for the 111th winter meetings at the Opryland Hotel. ...
----- snip -----
UPDATE - 12/1@12:30PM: Here's a review from the San Antonio Express-News.
UPDATE - 12/1@11:26AM: Here's a gallery of photos that was posted over at Cygnus-X1.net.
UPDATE - 12/1@9:16AM: Rush played the same B setlist that was played in Phoenix last weekend; complete setlist here. Official photos have been posted at RushShowPhotos.com.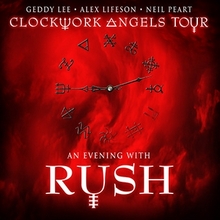 Rush continues their trek across the Lone Star State tonight when they bring the Clockwork Angels tour to the AT&T Center in San Antonio, TX. It's show number 34 and the 2nd to last date on the 2012 tour. After tonight Rush will close out the tour in Houston on Sunday. The band is due to play some version of their Night B setlist, but may swap out a track or two as has often been the case. As soon as I find out what version of the set was played along with any changes, I'll be sure to post it here. The San Antonio Current posted this preview article earlier in the week which contains some previously published interview segments with Alex Lifeson. There's also this preview article from The San Antonio Express Weekender. For everybody going to the show tonight, have fun, be safe, and make sure to share your reports, reviews, and photos with us. Rush on!!
Date/Time: Friday, November 30th @ 7:30PM
Show Number: 34
Venue: AT&T Center
Place: San Antonio, TX
gallery: [view] [upload] [YouTube videos]
reviews: [reviews] [setlist]