UPDATE - 11/15@9:40AM: Here's a review from Guitar International.
UPDATE - 11/8@9:29AM: Here's a front row photo gallery that was posted over at Cygnus-X1.net.
UPDATE - 11/5@11:41AM: Here's a review from TampaBay.com's SoundCheck.
UPDATE - 11/5@9:48AM: Here's a review from the Tampa Bay Times.
UPDATE - 11/4@9:20PM: Official photos have been posted at RushShowPhotos.com.
UPDATE - 11/3@11:46PM: Rush played their standard Night A set; complete setlist here.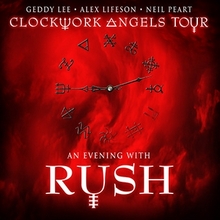 Rush closes out the 2nd leg of the 2012 Clockwork Angels tour tonight at the ridiculously-named (but otherwise nice venue) 1-800-ASK-GARY Amphitheatre in beautiful Tampa, FL. The band is expected to be playing their Night A setlist, but it's always possible that they'll make an adjustment or two - like they have for a few recent shows. As always, if I here of any deviations from the standard A setlist I'll be sure to post them here. The weather looks great for the concert; clear skies and around 70 degrees. For everyone going to the show - have fun, be safe and make sure to share your reports, reviews, and photos with us.
Date/Time: Saturday, November 3rd @ 7:30PM
Show Number: 25
Venue: 1-800-ASK-GARY Amphitheatre
Place: Tampa, FL
gallery: [view] [upload] [YouTube videos]
reviews: [reviews] [setlist]