UPDATE - 10/16@12:20PM: Rush made the Philadelphia Inquirer's Out and About column today (thanks PhillyMike):
Canadian rockers Rush ate dinner at Red Owl at the new Hotel Monaco Friday night. The band played at the Wells Fargo Center that night.
----- snip -----
UPDATE - 10/13@1:32PM: Here's a photo gallery from the show that was posted over at Cygnus-X1.net.
UPDATE - 10/13@8:46AM: All reports indicate that the Night B setlist was played as expected; complete setlist here. Official photos from the show have been posted at RushShowPhotos.com.
UPDATE - 10/12@9:31PM: It's intermission now and the Night B setlist has been confirmed up through the first set (thanks Dominic N and dingus).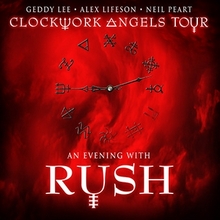 Rush takes the Clockwork Angels tour to The City of Brotherly Love tonight where they'll play the Wells Fargo Center for stop #14 on the tour. The band is due to play their Night B setlist - the same that was played in Edmonton (*SPOILERS*) a couple weeks ago. If there are any deviations from this setlist I'll be sure to post them here. Here's a short preview blurb from the Philadelphia Weekly's Go See It This Weekend column. For everyone going tonight - have fun, stay safe and be sure to share your reports, reviews, and photos with us. RUSH!!
Date/Time: Friday, October 12th @ 7:30PM
Show Number: 14
Venue: Wells Fargo Center
Place: Philadelphia, PA
gallery: [view] [upload] [YouTube videos]
reviews: [reviews] [setlist]