UPDATE - 10/9@11:18AM: Here's a gallery of photos that was posted over at Cygnus-X1.net.
UPDATE - 10/3@7:13AM: Official photos from the show are now posted at RushShowPhotos.com.
UPDATE - 10/2@4:22PM: Here's a public Facebook photo gallery from the show from reader Mitchell C.
UPDATE - 10/1@9:55AM: Here's a review from The Edmonton Journal along with The Edmonton Sun's review to go along with their photo gallery which I posted earlier.
UPDATE - 10/1@7:30AM: Here's a photo gallery from The Edmonton Sun. Reader thedigitalman confirms that the latest Night B setlist was indeed played - complete setlist here (*SPOILERS*).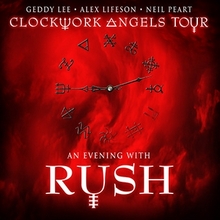 As the month of September comes to a close, so does the first run of dates for Rush's Clockwork Angels tour. After tonight's show in Edmonton the band will take a 10-day hiatus before firing back up the coldfire engines of the Clockwork Angels tour steamliner in Bridgeport, CT on October 10th. The band is due to play their Night B setlist - the same that was played in Winnipeg (*SPOILERS*) this past Wednesday. If there are any deviations from this setlist I'll be sure to post them here. For everyone going to tonight's show - have fun, be safe and make sure to share your reports, reviews, and photos with us. Rush!!
Date/Time: Sunday, September 30th @ 7:30PM
Show Number: 12
Venue: Rexall Place
Place: Edmonton, AB
gallery: [view] [upload] [YouTube videos]
reviews: [reviews] [setlist]