UPDATE - 9/28@6:59AM: John at Cygnus-X1.net posted a great photo gallery from the show at this location.
UPDATE - 9/27@9:28AM: Here are a couple of photo galleries from the show; one from the Winnipeg Free Press and another from Metro (thanks RushFanForever).
UPDATE - 9/27@9:25AM: Here's a review from examiner.com.
UPDATE - 9/27@6:41AM: Reader reports from last night's show (thanks maple_leafs_4evr and Governor General) confirm that the Night B setlist was played. This review from the Winnipeg Sun also confirms the set. You can view the full setlist here (*SPOILERS*). The official photos from the show have also been posted at RushShowPhotos.com.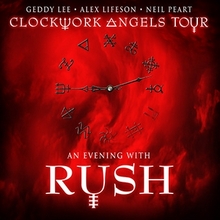 Rush takes off to the Great White North tonight, bringing the Clockwork Angels tour to their homeland to play the MTS Centre in Winnipeg - stop #10 on the tour. They are due to play their Night B setlist - the same that was played in St. Louis (*SPOILERS*) last week, although there's always a chance they might switch out a song or two. If there are any deviations from this setlist I'll be sure to post them here. For everyone going to tonight's show - have a blast, stay safe and make sure to share your reports, reviews, and photos with us. Rush on!!
Date/Time: Wednesday, September 26th @ 7:30PM
Show Number: 10
Venue: MTS Centre
Place: Winnipeg, MB
gallery: [view] [upload] [YouTube videos]
reviews: [reviews] [setlist]