UPDATE - 9/28@9:28AM: Here's a review and essay from the Imaginative Conservative.
UPDATE - 9/22@9:22AM: Here's Gene Schilling's complete photo gallery of the show that he posted over at his blog (the one at Soundspike.com is only a sample).
UPDATE - 9/19@10:08PM: John at Cygnus-X1.net has posted a great gallery of photos from the show at this location, and there's also this gallery from Gene Schilling at Soundspike.com.
UPDATE - 9/19@11:18AM: Official photos from the show are now posted at RushShowPhotos.com.
UPDATE - 9/19@10:04AM: Here's a review form The Detroit Free Press.
UPDATE - 9/19@7:57AM: Reader lerxstz confirms the Night B setlist. I'll go with that unless I hear otherwise.
UPDATE - 9/19@6:28AM: From all of the reports so far it looks like Rush actually played the same Night B setlist that was played in Indy (*SPOILERS*) last week. If you went to the show last night and can confirm this, please let us know.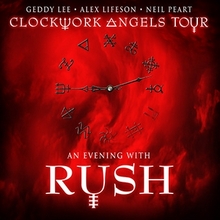 Rush takes the Clockwork Angels tour machine to the Motor City of Detroit tonight to play The Palace of Auburn Hills. It's expected that they'll be playing some version of their Night B setlist, although the way things have been going I wouldn't bet on it. So far they've been consistently alternating the songs of the first set between their A and B setlists each night, but have been slightly altering the 2nd set and/or encore. As soon as I am made aware of any deviations from the expected B setlist that was played in Indy (*SPOILERS*) last week, I'll be sure to post them here. For everyone going tonight - have fun, be safe and be sure to share your reports, reviews, and photos with us. Rush on!!
Date/Time: Tuesday, September 18th @ 7:30PM
Show Number: 6
Venue: The Palace of Auburn Hills
Place: Auburn Hills, MI (outside Detroit)
gallery: [view] [upload] [YouTube videos]
reviews: [reviews] [setlist]