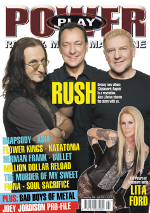 As I'd mentioned a couple of weeks ago, Rush is featured as the cover story in the latest issue (#144) of the UK's Powerplay magazine. John at Cygnus-X1.net has transcribed the entire article and made it available online at this location. Alex Lifeson is interviewed and discusses the Clockwork Angels album among other subjects. When asked whether the band would ever slow down Alex said the following:
Well, we were supposed to slow down a little while ago." he laughs. "I recall sitting with my wife one time and saying 'You know what? I think it's time that we slowed this whole thing down a little' and then it went and accelerated again!" he laughs. "We have this tour that will finish some time next summer, I guess, and I know that we all enjoyed making this record so much that I'm sure I'll get together with Geddy; we live five minutes from each over, always have, and I don't see us taking an extended break at this late stage of the game. Maybe in the winter or early 2014 we'll get together and start throwing some ideas around. We're riding this wave right now and it's hard to say what offers or opportunities might come our way. I don't see any reason why we'd stop right now."
And when asked about whether there was any one defining Rush moment that he could think of from the band's long career, Alex had this to say:
... "there have been many amazing things that happened to this band, but probably the one outstanding moment," he offers, "was after Neil's double tragedy ... The first show on the "Vapour Trails" tour was in Hartford, Connecticut. Ged and I walked over to the drum kit and leaned in, past Neil's hardware, looked at Neil and we smiled at each other and we all shared this moment when we couldn't believe that we were here again after that long, dark journey. It connected us in such a powerful way. We were all teary at that point. That was a pretty momentous moment. I can still picture it to this day."
You can read the entire article/interview here.