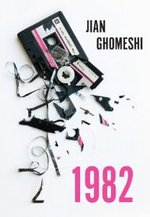 Canadian broadcaster Jian Ghomeshi is releasing his first book next month titled 1982. Ghomeshi is the host of Q with Jian Ghomeshi and has interviewed Rush a number of times on the show. In the lead up to the book's release, Ghomeshi posted a video to his YouTube channel where he asks different celebrities about their memories of being 14 - Ghomeshi's age in 1982. Geddy Lee is one of those interviewed and you can check out what he had to say below or on YouTube (thanks simont2112):
1982 releases on September 18th in Canada. From the publisher's book description:
... It is a bittersweet, heartfelt book that recalls awkward moments such as Ghomeshi's performance as the "Ivory" in a school production of Michael Jackson and Paul McCartney's Ebony and Ivory; a stakeout where Rush was rehearsing for its world tour; and a memorable day at the Police picnic of 1982. ...
Gomeshi talks about the stakeout mentioned above with Geddy and Alex in the uncut version of their interview from a 2009 appearance on Q.