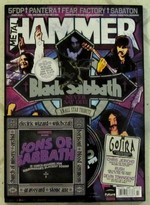 As I'd mentioned a couple of weeks ago, the July, 2012 issue of Metal Hammer magazine contains an article on Rush titled Kingdom Come. John at Cygnus-X1.net has transcribed the entire article and made it available online at this location. Alex Lifeson is interviewed and discusses the recording of Clockwork Angels, the band's Time Machine Tour, the Rush documentary and more. Here's what Alex had to say about his bandmates:
... They're such a tight rhythm section," Alex states, admiringly. "Those guys have telepathy between them. I'm standing in front of Neil and I can feel his playing and the nuances and the subtleties in his playing are just out of this world. When those guys get together it's amazing to watch them work out stuff, because they just do things at the same time without even talking about it. It's pretty amazing." ...
The magazine is a special issue paying tribute to Black Sabbath and contains a sidebar piece where Lifeson heaps praise on the heavy metal pioneers and also explains how Rush met Ozzy Osbourne during the recording of A Farewell To Kings:
"We met Ozzy Osbourne back in 1977, when we were at Rockfield [residential recording studio near Monmouth, Wales] working on our album A Farewell To Kings. He'd stopped by briefly at the studio and my recollection is he was looking for drugs ha ha ha! Unfortunately he left disappointed! We all had a good chuckle about it at the time.

"Black Sabbath are very important to heavy music. Tony Iommi had such an awesome sound, and their riffing was spectacular. They were really the quintessential heavy metal band of that period. They were much heavier than some of their contemporaries like Uriah Heep. They definitely had a sound about them that put them in a category all their own. If Black Sabbath didn't exist, the world would be a quieter place! And they certainly influenced a lot of people.

"My favourite Black Sabbath song has to be Iron Man, because the vocal line was so cool. And it's just a great riff. That droning opening guitar note is so perfect."
The issue contains an additional sidebar piece titled What Rush and Machine Head Have In Common along with a 9/10 review of Clockwork Angels. You can check out the entire feature complete with scans of the included photographs at this location.