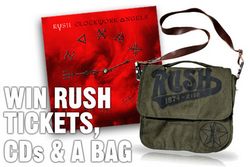 Although the Classic Rock fanpack edition of Clockwork Angels was released several weeks ago in the UK, this past Monday, July 9th was the official UK release of the regular edition of the album. To celebrate, Planet Rock is running a contest where they are giving away copies of the album, a cool Rush canvas bag and a chance to win tickets to one of the band's UK shows next year. From the website:
This week Rush release their latest classic - CLOCKWORK ANGELS - and we have an awesome giveaway to celebrate. We are giving you the chance to win a pair of tickets to see Rush LIVE in the UK next May PLUS we have copies of the album and really cool Rush canvas bags to give away.
For more information and to enter the contest just go to this link.