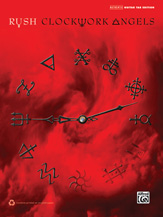 Alfred Music Publishing has released an authentic guitar tablature book for Rush's Clockwork Angels album. Amazon has it listed as releasing on July 29th, but the publisher website indicates that it is already available for purchase. From the Alfred Music Publishing product description:
Rush's 20th studio album features all the classic elements that have endeared the band to several generations of fans and made them the most successful progressive rock group of all time! The book contains all the songs faithfully transcribed in authentic guitar TAB, beautiful full-color artwork, and a complete lyrics section. Titles: Caravan * BU2B * Clockwork Angels * The Anarchist * Carnies * Halo Effect * Seven Cities of Gold * The Wreckers * Headlong Flight * BU2B2 * Wish Them Well * The Garden.
There's also this sample pdf that the publisher has made available online. Alfred Music Publishing also has several other Rush guitar, bass and drum transcription books available which you can check out here. Thanks to TimeStandThere for the heads up.