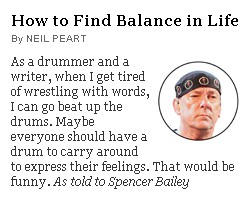 Neil Peart was featured in yesterday's One-page Magazine in the Sunday New York Times. The following quote from Peart is featured with the title How to Find Balance in Life along with a headshot:
As a drummer and a writer, when I get tired of wrestling with words, I can go beat up the drums. Maybe everyone should have a drum to carry around to express their feelings. That would be funny. As told to Spencer Bailey
You can check it out online at this link. Thanks to Rushguy for the heads up.