UPDATE - 6/11@10:52PM: Reader Andrew W was lucky enough to attend the Q&A and sent along these photos.
UPDATE - 6/11@5:17PM: Alex and Geddy are on live right now at this link.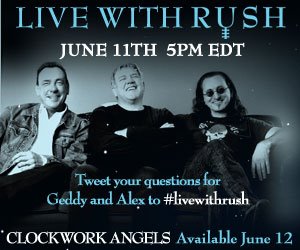 Just a reminder that Geddy Lee and Alex Lifeson will be stopping by Toronto's Q107 this afternoon at 5PM as part of a Clockwork Angels album premiere Q&A session with Jeff Woods. You can tweet your questions for Geddy and Alex to #Livewithrush. For more information and to listen/watch the broadcast live, go to this link.