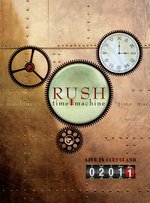 The big news of this past week was Rush signing a record deal with Roadrunner Records, who will be releasing the band's Clockwork Angels studio album next year. But before that happens, Roadrunner will first be releasing the live CD companion to Rush's upcoming Time Machine 2011: Live in Cleveland DVD, although it's still unclear whether the CD release will be included with the DVD or released separately. Roadrunner promises that more details regarding this will be revealed in the coming weeks. Where Rush's signing with Roadrunner may seem like a major break from the band's previous deal with Atlantic Records, it should be noted that Warner Music Group is the parent company of both Roadrunner and Atlantic, and Atlantic Records Group is Roadrunner's US distributor. Indeed, Rush had been under contract with Atlantic to release one more studio album, and Rush's deal with Roadrunner likely would not have been able to happen if Roadrunner and Atlantic had not been with the same parent company. That said, from a marketing standpoint this is probably a good move for Rush, as Atlantic had been doing a poor job promoting the band in recent years. Roadrunner's focus on hard rock and heavy metal bands makes them a much better fit for Rush. Other prog-rock bands currently with Roadrunner Records include Porcupine Tree, Dream Theater and Opeth.
We learned earlier this month that Neil Peart's new instructional DVD - which he'd first mentioned in his February, 2011 news update at NeilPeart.net - is titled Taking Center Stage: A Lifetime of Live Performance and will be released on October 14th, 2011. A teaser website promoting the DVD had been launched earlier in the year but it didn't contain much in the way of content or information until just recently. The site now contains a large photo gallery of behind-the-scenes pictures from the DVD filming, an informational page, a four-part series of articles on the making of the DVD from lead editor and co-producer Joe Bergamini, along with the promise of a video trailer and other teaser videos to come. The video trailer will release in less than 2 weeks on September 12th - Neil's 59th birthday.

The August, 2011 issue of the UK's Rhythm magazine contains an 11-page cover feature on Neil Peart that John over at Cygnus-X1.net transcribed and posted online yesterday at this link. The feature includes Neil's interview where he talks about what drives his timekeeping, improvisation, and the benefits of touring. There's also a piece on Neil's latest drum teacher Freddie Gruber, excerpts from Neil's first Rhythm cover feature back in 1987, a short piece where Neil's drum tech Lorne Wheaton talks about Neil's gear and a breakdown of Neil's Time Machine Tour kit along with a gallery of photos. Check it out at this link.
Earlier this week Neil Peart updated the Bubba's Book Club section of his website where he reviews and recommends books that he's been reading. In this installment Neil reviews After Many a Summer Dies the Swan by Aldous Huxley. You can check out Neil's review at this link.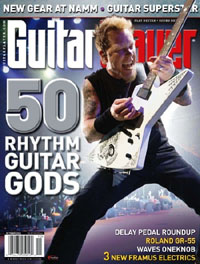 The October, 2011 issue of Guitar Player magazine has a cover story titled 50 Rhythm Guitar Gods where Rush's Alex Lifeson is one of the guitarists featured. Here's what they say about Lerxst:
"I've tried to develop a style that combines broad arpeggios and suspended chords," explained Lifeson. "They've been my two main target areas. Suspensions have been my trick for many years to make a trio sound big." Not very often are you treated to a body of rhythm work like Lifeson's, from classic riff rock ("Working Man") through heavy prog ("Xanadu") onto the textural '80s and '90s, deftly riding the heavier sonic zeitgeist all the way to 2011. Along the way, Lifeson has also incorporated more feels into his vernacular as well, including reggae (Permanent Waves and Moving Pictures) and funk (Roll the Bones). Lifeson has done it all, and never at the expense of his own personal voice."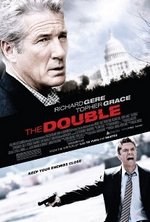 We learned earlier this year of Alex Lifeson's involvement with the film score for a new spy thriller due out later this month starring Topher Grace and Richard Gere titled The Double. The film was co-written by Derek Haas and director Michael Brandt and features original music by film composer John Debney with a little help from Alex Lifeson. Alex plays guitar on the score throughout the movie and also wrote the outro track which is titled Don't Look Back according to movie co-writer Derek Haas, who posted the information to The Rush Forum earlier this month. We had already been aware from reports earlier this year that Scarlet Sins vocalist Sylvya NuVynska and Skinny Puppy founding member cEvin Key also play on the outro track, and that Rush sound engineer Richard Chycki handled the mixing duties. Yesterday afternoon Haas posted a 2-minute audio clip of Don't Look Back to YouTube. You can listen to the clip below or at this link. The film will be released to theaters in the US on September 23rd.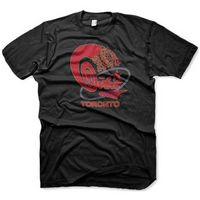 Speaking of Lerxst, Alex Lifeson's Toronto nightclub The Orbit Room launched a website last week which is selling official Orbit Room merchandise. There are both Classic t-shirts and women's t-shirts available along with a beer mug or shot glass, all sporting the Orbit Room logo. To check out the store and purchase your official Orbit Room merchandise just go to this link.

Ready Player One is a new, critically-acclaimed sci-fi book from author and self-described seventies/eighties protonerd Ernest Cline. Cline is currently on the book tour circuit, traveling around the country in is his Back to the Future-inspired DeLorean and doing a number of interviews promoting the book. Being a '70s/'80s protonerd, it's not surprising that Cline is a Rush fan. He was recently featured on the cover of the Austin Chronicle sporting a Rush Time Machine Tour jersey and was the subject of an article titled The Geek Shall Inherit the Earth. He was also recently interviewed for eMusic and spoke a bit about Rush and 2112 in particular. You can check out the interview at this link. There's also this review of the book in the September 5th issue of Time magazine which also makes mention of Rush:
... "As much fun as it is to see those long-mothballed names again -- and the torrent of references never lets up -- Cline's enthusiasm for geeky minutiae can grown maddeningly fetishistic. When Wade's virtual-world avatar pulls a guitar out of a stone, its a 1974 Gibson Les Paul, 'the exact guitar used by Alex Lifeson during [Rush's] 2112 tour.' (Rush and They Might Be Giants loom large in this 2045; the
re's no sign that, say, hip-hop ever happened.)" ...
For more information on Ready Player One, check out www.readyplayerone.com.
On Thursday of last week MSN Canada posted a photo gallery of celebrity sports fans including Rush's Geddy Lee, whose love of baseball prompted his addition to their list:
When he's not playing bass for Canadian rock legends Rush, Toronto native Geddy Lee likes to unwind with some baseball. An avid collector of cards and memorabilia, Lee is frequently seen at Blue Jays games, catching the action from his exclusive season ticket seats behind home plate. Lee, who enjoys catching games in different cities with his son while Rush is touring North America, is also a hardcore fantasy baseball player. In fact, he's so serious about the hobby that he insists on having high-speed internet access in every venue the band plays so he can keep tabs on his team.
Guitar World is running a poll on their website to determine the Best Guitar Album of 1984. Rush's Grace Under Pressure is in the running and needs some help from Rush fans. As of this post Stryper's Yellow and Black Attack and The Scorpions' Love at First Sting are leading the pack and splitting about half of the vote. So go vote for Rush!



Reader Dave H has recreated the Time Machine Tour stage setup with legos, including Alex's amps, Geddy's GeFilter and Neil's kit. He has a huge gallery of photos available at this link and has made it available for purchase on eBay. He also plans on creating another, more ambitious complete Rush stage set, including the lighting trusses, foot pedals, rear screen, mic stands, Geds keyboards, etc.
The creator of FX's Archer - Adam Reed - and star Judy Greer were recently interviewed for FanBolt.com at last month's San Diego Comic Con to talk about the upcoming third season of the show. The second season's finale episode included a big Rush reference as I'd reported in this post back in April. In the interview the subject of Rush comes up when Reed spots the interviewer wearing a Rush hat. You can listen to the interview at this link. The Rush bit occurs at about the 3:25 mark. Thanks to John for the heads up.
Eddie Trunk's debut book Eddie Trunk's Essential Hard Rock and Heavy Metal was released this past April. The book discusses Trunk's most essential hard rock and heavy metal artists and includes an entire chapter devoted to Rush. Trunk was recently interviewed for the Front Row TV website and had a lot of great things to say about Rush. You can watch the interview at this link. The Rush bit comes in at about the 16:20 mark. Thanks to RushFanForever for the heads up.
Earlier this summer the 2 blogs Popblerd and The Man in the Gray Flannel Suit kicked off an experiment called Why the hell should I like... where they picked 10 songs from their favorite artists - one for which the other had professed dislike or disinterest - and demonstrated why they were wrong. The first band chosen was Rush. You can read the initial post here and the rebuttal here. It sounds like it was a fun and enlightening exercise. Thanks to John for the heads up.
Tomorrow marks the 20th anniversary of the release of Rush's 14th studio album - 1991's Roll the Bones. The album was certified Platinum by the RIAA on August 31, 2001 and reached as high as #3 on the Billboard album charts. Last month Audio Fidelity released a limited edition 24 Karat Gold CD version of the album. In celebration of the anniversary here's the video for the title track:
That's it for this week. Have a great Labor Day weekend!