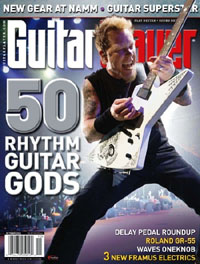 UPDATE - 11/15@12:29PM: The article is now online here (thanks RushFanForever).
The October, 2011 issue of Guitar Player magazine has a cover story titled 50 Rhythm Guitar Gods where Rush's Alex Lifeson is one of the guitarists featured. Here's what they say about Lerxst:
"Iíve tried to develop a style that combines broad arpeggios and suspended chords," explained Lifeson. "They've been my two main target areas. Suspensions have been my trick for many years to make a trio sound big." Not very often are you treated to a body of rhythm work like Lifeson's, from classic riff rock ("Working Man") through heavy prog ("Xanadu") onto the textural '80s and '90s, deftly riding the heavier sonic zeitgeist all the way to 2011. Along the way, Lifeson has also incorporated more feels into his vernacular as well, including reggae (Permanent Waves and Moving Pictures) and funk (Roll the Bones). Lifeson has done it all, and never at the expense of his own personal voice."
Thanks to Power Windows for the heads up and the transcript.