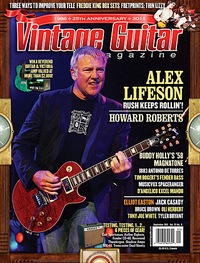 UPDATE - 8/12@12:53PM: John at Cygnus-X1.net has transcribed the entire Alex Lifeson Vintage Guitar interview at this link. Thanks John!
We learned last month that Alex Lifeson is the subject of a cover feature in the September, 2011 issue of Vintage Guitar magazine, on newsstands now. Thanks to reader Kelly M I've obtained some partial scans of the article and was able to transcribe portions of it. Most of the questions in the 3-page interview focus on Alex's various guitars throughout the years, but they also ask Alex about a range of other subjects including his thoughts on the Rock and Roll Hall of Fame:
It's not a big concern. It's a business that makes a lot of money and I have no problem with that, but it's not a real representation of what rock music is about. There are certainly a lot of bands in there that I admire, like Led Zeppelin and U2. But if we're not wanted there, I really don't care. Being inducted is not going to change my life at all.
He was also asked about his early influences, specifically his thoughts on Jimi Hendrix and Eric Clapton:
Oh, from the very beginning, Hendrix blew my mind. He was just amazing. There was no thinking about ever reaching his level. Everything he did seemed so nuanced and out of this world, especially at that time. You could never replicate that tone, or how he played those things. I certainly didn't have the dexterity to do it. As a kid, Clapton's solos seemed a littler easier and more approachable. I remember sitting at my record player and moving the needle back and forth to get the solo in "Spoonful." But there was nothing I could do with Hendrix.
When asked about Rush's upcoming Clockwork Angels album, Alex had the following to say:
Well, our intent was to have it out this year, but after we started it, we thought, "Let's go on a short tour, get in shape, then finish it." Then the tour did so well that there was pressure on us to do another run, then we decided to do another leg. We'll take a few months off after it's finished, and complete songwriting. Geddy and I are working on several new songs to balance out the six we've already written.
You can read the entire article in the September, 2011 issue of Vintage Guitar magazine.