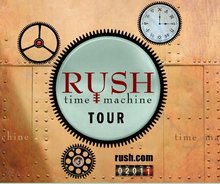 UPDATE - 7/8@9:35AM: The Gorilla vs. Chicken battle got some coverage from Spinner (thanks RushFanForever).
UPDATE - 7/1@9:50PM: Official photos are now posted at the Rush on the Road Photo Store website.
UPDATE - 7/1@4:43PM: Here's a review from CTV News.
UPDATE - 7/1@2:18PM: Here is a photo gallery posted over at Cygnus-X1.net.
UPDATE - 7/1@8:32AM: Here's a review from the Vancouver Sun, along with a couple of reports from Straight.com here and here.
UPDATE - 7/1@7:57AM: Reader RushFanForever was at the show last night and reported seeing/meeting Rush friend and collaborator Ben Mink. Reader Kelly D reports that during 2112 a guy in a chicken suit came out wearing a Bruins jersey along with a guy in a gorilla suit wearing a Canucks jersey - and the gorilla beat the crap out of the chicken as shown in this YouTube video. :)
UPDATE - 6/30@4:52PM: Here's a preview article from Straight.com.
Rush jumps across the border back into their homeland of Canada for the 2nd-to-last show of the 2011 Time Machine Tour. They'll be playing the Rogers Arena in Vancouver, BC to close out the month of June. There's only one more show left after tonight! For everyone going to the show, have fun, be safe and be sure to share your photos, videos and reports with us.
Date/Time: Thursday, June 30th @ 7:30PM
Show Number: 37
Venue: Rogers Arena
Place: Vancouver, BC
gallery: [view] [upload] [YouTube videos]
reviews: [reviews]