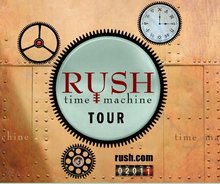 UPDATE - 7/1@2:18PM: Official photos are now posted at the Rush on the Road Photo Store website.
UPDATE - 6/30@9:20PM: Here's a photo gallery posted over at Cygnus-X1.net.
UPDATE - 6/29@9:02PM: Here's a review from The Oregonian (thanks Rush.Pike).
Rush heads to the Pacific Northwest to play the Sleep Country Amphitheater in Ridgefield, WA tonight for stop #36 on the 2011 Time Machine Tour - the 3rd to last show on the tour. For everyone going tonight, have fun, be safe and make sure to share your photos, videos and reports with us.
Date/Time: Tuesday, June 28th @ 7:30PM
Show Number: 36
Venue: Sleep Country Amphitheater
Place: Ridgefield, WA (outside Portland)
gallery: [view] [upload] [YouTube videos]
reviews: [reviews]