UPDATE - 6/30@8:02AM: Here's a review from Las Vegas Weekly.
UPDATE - 6/27@11:01AM: Here's a review of sorts from John Katsilometes of The Las Vegas Sun (thanks RushFanForever).
UPDATE - 6/25@6:49PM: Official photos are now posted at the Rush on the Road Photo Store website.
UPDATE - 6/25@6:45PM: Here are a couple of photo galleries from last night's show; one from Examiner.com and another from the Las Vegas Sun.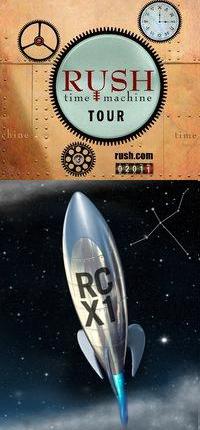 Rush brings the Time Machine Tour to Sin City tonight to play the MGM Grand Arena in Las Vegas, NV. The concert will coincide with the 11th annual RushCon (aka RushCon X1) which kicks off tonight after the show with an extravaganza at the Hard Rock Cafe on the Strip. Then there's the convention itself on Saturday at the Hooters Hotel and Casino - Night Owl Room. Online registration is now closed but you can still register in person at the door or during early check-in. For all the details visit RushCon.org, and if you can't make it you can follow all the action on Twitter and Facebook. For everyone going to tonight's show and/or RushCon, have fun, be safe and make sure to share your photos, videos and reports with us.
Date/Time: Friday, June 24th @ 7:30PM
Show Number: 34
Venue: MGM Grand Hotel
Place: Las Vegas, NV
gallery: [view] [upload] [YouTube videos]
reviews: [reviews]