UPDATE - 6/2@7:36AM: TV Line confirms Neil Peart's appearance next Thursday as part of the Late Show's Drum Solo Week (thanks Felix R):
... [The Late Show] is dedicating a week's worth of episodes to performances by some of the music industry's top percussionists, starting with a standout solo on Monday, June 6 from the Late Show's very own Anton Fig, the drummer in Paul Shaffer's band. The following night, Letterman welcomes Sheila E. and her world renowned skill with the sticks. On Wednesday, June 8, drum legend Roy Haynes takes the stage, boasting a career filled with Miles Davis and Sarah Vaughn collaborations (to name a few). And rounding out the week is a performance by Rush's Neil Peart, a drummer who is often regarded as one of rock music's greatest. ...
----- snip -----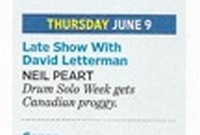 UPDATE - 5/27@5:37PM: Here are some scans thanks once again to reader Dawn O.
The latest print edition of Entertainment Weekly (June 3/10 double issue) hit newsstands and mailboxes today and contained some interesting Rush-related news. In a sidebar in the Music Reviews section titled Who's Playing on Late Night & Talk Shows it lists an appearance by Neil Peart on the Late Show with David Letterman as part of Drum Solo Week on Thursday, June 9th. In italics below this it says Drum Solo Week gets Canadian proggy. June 9th is the band's off-day between Greenville and New Orleans but it's not clear at this time whether Neil's appearance will be pre-taped or live, or any other details. More information as I learn it. Thanks to Dawn O for the heads up.