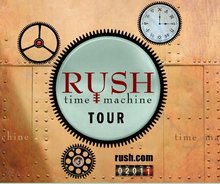 UPDATE - 6/7@10:14AM: Here's a review from the Dutch Progressive Rock Page (thanks rushfanben).
UPDATE - 5/30@7:45AM: Here's a review from Maxazine.nl (thanks Patrick S).
UPDATE - 5/29@8:30AM: Here's a review from OOR (thanks Hans).
UPDATE - 5/28@11:27PM: Official photos are now posted at the Rush on the Road Photo Store website. Here's a review from nu.nl (thanks Power Windows).
UPDATE - 5/27@10:00AM: Neil Peart's friend and riding partner Brutus checked in from the road in the Netherlands via Twitter this morning:
Greetings from Never Netherlands! From the single tracks of Dartmoor to the streets of Paris. My first time in the city of lights. Pics soon
----- snip -----
Rush takes the Time Machine Tour to the Ahoy Rotterdam Arena in Rotterdam, Netherlands tonight, returning to the venue where they recorded Snakes & Arrows Live back in 2007. For all of our fellow Dutch Rush fans who are going to the show, have fun, be safe and make sure to share your photos, videos and reports with us.
Date/Time: Friday, May 27th @ 7:30PM
Show Number: 24
Venue: Ahoy Rotterdam
Place: Rotterdam, Netherlands
gallery: [view] [upload] [YouTube videos]
reviews: [reviews]