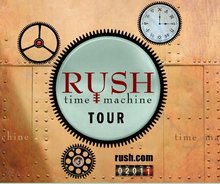 For the last couple of weeks Neil Peart's friend and riding partner Brutus has been updating a new Bubba's Bar and Grill Twitter feed (@RoadRash66) with some notes from the European road. Here are a few of the most recent tweets:
Manchester, just in from Wales and The Peak District. Morrow we go play in North York Moors Nat Pk. Bubba is The Cow Whisperer! Good story.
6 hours ago

Sheffield, 2 days of Lake District and North Yorkshire Dales. Hardnott Pass! Single lane 30 degree grade & switchbacks. rain and gale wind
16 May

The Dublin crowd is digging it big time. Wonderful ferry from Cherbourg to Rosslare yesterday and on to our hotel w/view over the Irish Sea.
12 May
You can follow Brutus's tweets at this link. How do I know it's really Brutus? Follow the link in the footer of the Bubba's Bar and Grill cooking forum. And if you didn't know already, you can follow Rush is a Band as well.