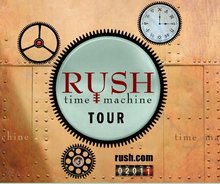 UPDATE - 5/19@1:51PM: Here's a spectacular gallery of photos posted at Cygnus-X1.net.
UPDATE - 5/16@4:35PM: Here's a review and photo gallery from Goldenplec.
UPDATE - 5/15@10:19AM: Here's a great gallery of photos on Radio Nova's Facebook page (thanks Forpadydeplasterer).
UPDATE - 5/14@7:01PM: Official photos are now posted at the Rush on the Road Photo Store website.
UPDATE - 5/13@4:42PM: Here's a review from State Magazine (thanks jw).
Rush will play Ireland tonight for the first time ever in their long career. They'll be bringing the Time Machine Tour to The O2 in Dublin for stop number 17 on the tour. Irish Rush fan eyes are smilin' tonight! Geddy Lee did a couple of Irish radio interviews over the last couple of days in the lead-up to the show including this one from Radio Nova and this one from Today FM. And the nephew of a friend of reader LanceTheShred was lucky enough to run into Geddy and some of the crew yesterday on Grafton street in Dublin. They were looking for the Phil Lynott Statue and his friend's nephew helped them out. Rush had become friends with Lynott back in the '70s when they toured with Thin Lizzy. For everybody going to the show tonight, have fun, be safe and make sure to share your photos, videos and reports with us.

Date/Time: Thursday, May 12th @ 7:30PM
Show Number: 17
Venue: The O2
Place: Dublin, Ireland
gallery: [view] [upload] [YouTube videos]
reviews: [reviews]