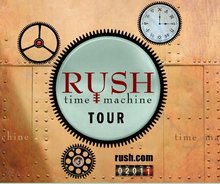 UPDATE - 5/10@7:46AM: Here's a review from SvD along with the Google translation, and another from DN.se and the Google translation (thanks RushFanForever).
UPDATE - 5/8@9:54AM: Official photos are now posted at the Rush on the Road Photo Store website.
Rush continues their trek across Europe tonight playing the first of 2 shows in Sweden where they'll be bringing the Time Machine Tour to the Globe Arena in Stockholm. To all of our fellow Swedish Rush fans going to tonight's show, have fun, be safe, and make sure to share your reports, reviews, and photos with us.
Date/Time: Friday, May 6th @ 7:30PM
Show Number: 15
Venue: Globe Arena
Place: Stockholm, Sweden
gallery: [view] [upload] [YouTube videos]
reviews: [reviews]