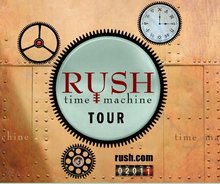 Sometime in the next couple of weeks Rush will be getting together to begin rehearsals for the 2011 leg of their Time Machine Tour which kicks off on March 30th in Florida. Much to the chagrin of many fans (although most seem ok with it), the band has decided to keep the set identical to the 2010 tour which Alex Lifeson first revealed in his Planet Rock interview earlier this month and recently elaborated on in a Gibson.com interview:
... We're going to do another 38 or 40 shows on this [tour], made up of three runs, kind of East and West Coasts, and then Europe and the U.K. in May. So it was kind of important that we continue the set just as it is — particularly in Europe and the U.K., 'cause they're kind of expecting what Time Machine was over here. So we've been tempted to change out a few songs, but we decided that we would keep everything intact. And we're really not hitting a lot of the markets that we've already played on the last tour. We're really picking up a lot of other places and certainly that whole month that we're spending in Europe is new. ...
The centerpiece of the tour is the band's performance of their entire Moving Pictures album, which recently celebrated the 30th anniversary since its release on February 12, 1981. In celebration of this anniversary the band will also be releasing a 5.1 surround sound remix of the album on April 5th. We learned earlier this week that the remix will be a 2-disc set available on either DVD or Blu-ray containing the 5.1 mix along with a CD containing the stereo mix. As an added bonus the DVD/Blu-ray will also contain 5.1 mixes of the music videos for Tom Sawyer, Limelight and Vital Signs. Although not yet available for pre-order in the US, it can be pre-ordered through both Amazon Canada (CD+DVD, CD+BD) and Amazon UK (CD+DVD, CD+BD) although it's listed as an import in both cases.
One person who should be very happy to see Moving Pictures get the 5.1 treatment is Porcupine Tree front-man Steven Wilson. He'd included the album in his list of 20 Albums That Deserve To Be In Surround Sound in a December, 2009 article for Sound & Vision:
One of my favorite bands at its very peak. Moving Pictures is that rare thing: a 40-minute album without a wasted note or even a weak moment. It was made with relative economy compared with some of the other albums on this list, yet the interplay between the three extraordinary musicians (and the tasteful integration of synthesizers) would be a blast in 5.1.
Speaking of Porcupine Tree, reader random_guy23 recently started an excellent Porcupine Tree blog at StarsDie.com that any Porcupine Tree fan simply must check out. And if you're a Rush fan (obviously) who hasn't heard of Porcupine Tree yet, what are you waiting for? :)

Gibson Guitars unveiled their new Alex Lifeson Les Paul Axcess at the 2011 Winter NAMM show last month and recently launched a detailed website highlighting the guitar complete with detailed specs, a bunch of closeup photos, and purchase information. You can check out the website at this link. Alex also spoke a good bit about the Axcess in his Gibson interview from last week:
... we've been working on this for quite some time - a few years, really. The Axcess is a great platform, I think, because it has certain things that the traditional Les Paul doesn't. You know, the light weight, getting the vibrato arm on there, the changes that we made with the piezo pickups, the separate outputs - you know, it's a great utility guitar. I looked at it in terms of, "What do I need? Instead of switching through 14 or 15 guitars during a show, how can I pare that down, like, where I can get everything - as much as I can — into one guitar?" And this is really what it is. ...
As part of their continuing celebration of the launch of the Alex Lifeson Les Paul Axcess, Gibson.com posted their Top 10 Alex Lifeson Guitar Moments this morning. Here's what they said about the number 1 song on their list - La Villa Strangiato:
Epic. From the first few delicate notes of Lifeson's classical guitar, notes that quickly cascade into a frenetic and blistering pace – and that's in just the first 20 seconds – "La Villa Strangiato" is at times beautiful, other times haunting and sinister. However you define Rush, this is the penultimate Rush song. Operatic and dazzling, this is Lifeson's greatest and most dynamic guitar moment.
You can check out the entire list at this link.
In addition to launching a new signature guitar and appearing in independent films, Alex has also been involved with scoring a film. He briefly mentioned in his VH1 Classic Rock Nights interview 2 weeks ago that one of the side projects that he had been working on recently was a score for a film starring Martin Sheen and Richard Gere. We later learned that the title of the film is The Double and features original music by film composer John Debney. Apparently Skinny Puppy founding member cEvin Key was also involved with the score as demonstrated by this recent post to his Facebook page:
collaboration is cool, who would ever guess John Debney, cEvin Key
w Alex Lifeson from Rush and Martin Sheen.
The film is written and directed by Michael Brandt and centers around a retired CIA operative who is paired with a young FBI agent to unravel the mystery of a senator's murder. It's due out later this year but no specific release date has been given yet.
The UK's Record Store Day will take place on Saturday, April 16th and we learned earlier this week that one of the featured special vinyl releases will be a 7-inch limited edition vinyl release of Rush's BU2B. For details visit the Record Store Day website and to learn more about Record Store Day check out this link.
The Motion Picture Sound Editors (MPSE) presented their annual MPSE Golden Reel Awards this past Sunday night in Los Angeles, in which they acknowledge the year's best work in the various areas of sound editing. The Rush documentary Rush: Beyond the Lighted Stage ended up winning an award in the Documentary Feature Film Category. The film had also been nominated for a Grammy Award in the Best Long Form Music Video category but ended up losing last weekend to The Doors documentary When You're Strange. The film has also been nominated for a Juno Award for Music DVD of the Year. Winners will be announced at the Juno Awards Ceremony at the Air Canada Centre on March 27th which will air on CTV.
This past September, Bob Mersereau's book The Top 100 Canadian Singles was released. The book compiles a list of the best Canadian songs as chosen by around 800 musicians, broadcasters, members of the music industry and fans. A few Rush songs made the cut including Tom Sawyer at #12, The Spirit of Radio at #25, and Closer to the Heart at #35. Reader RushFanForever picked up the book recently and scanned the relative Rush excerpts for us. You can check them out in this post.

An old photo of Geddy Lee being surprised on stage by Paul Stanley and Gene Simmons of KISS was recently posted to a KISS forum. The photo is from Rush's last show opening for KISS on the Fly By Night tour on June 7, 1975 at the Civic Center in San Diego. You can check it out at this link (thanks Greg Prato).
Reader Trip E pointed me to a post on the political blog Blue Virginia titled Federal Judge (and Rock Group Rush?) Refute Cooch on Health Insurance "Choice" where the author makes use of the lyrics to Rush's Freewill to make his point.
Reader Ernie let me know about a Rush mention on G4's Attack of the Show this past Tuesday. Canadian-American radio host, actor, rock musician and former professional wrestler Chris Jericho was being interviewed on the program by host Kevin Pereira when the subject of Justin Bieber was brought up. Here's what Jericho said:
I'm from Canada and he's like a DemiGod there. Justin Bieber and Geddy Lee are like running the country now.
You can watch the clip at this link at about the 5-minute mark.
Reader Louis B alerted me to the fact that Toronto restaurant Caplanskys Delicatessen has an item on their menu called The Geddy:
Lox, salami and eggs all scrambled together with onions and served with rye toast, latkes and apple sauce just the way he likes it. Closer to the heart? You betcha.
Sounds yummy! Geddy is known to frequent Caplansky's quite often so it's no surprise they named a meal after him. :)
In the latest installment of his music discovery podcast and blog Bands Like Rush, Ben Sommer talks to Simon James White - bassist, front-man and namesake of UK-based prog-pop band SjW. Ben describes their sound:
Simon's greatest asset is his voice – a pure but meaty tenor that sounds like a hybrid of Jon Anderson and Jack Bruce. He's a good bass player too, though unlike many bass-fronted bands his songs are balanced and guitar-driven rockers. The Rush similarity here is obviously to early and late era albums.
You can listen to the podcast and read a transcript at this link. To find out more about SjW check out their website here. Ben has also recently video-enabled all of his past podcasts (including SjW) from the site and thrown them up on YouTube and is embedding them back onto bandslikerush.com too. The video-enabled podcasts contain lots of interesting footage of the bands, background narratives and more.
Reader BrewersRush Fan let me know that Milwaukee Brewers closing pitcher John Axford has posted a poll on his Facebook page to let fans choose his entrance music for 2011. Rush's Working Man is one of the selections, so go vote for Rush!.
Reader Mitch K recently obtained a radio show on 92.1 WPTS in Pittsburgh called the Mind of Mitch. The show focuses on progressive rock and Rush is prominently featured - typically more towards their B-side material. It runs every Monday from 5-7AM, so all you early-rising Rush fans have something to listen to get your work week off to a good start. You can listen live online at this link.
Tomorrow marks the anniversary of Rush receiving the Order of Canada back on February 26th, 1997. Here's the presentation of the award:
That's it for this week. Have a great weekend!