UPDATE - 2/20@8:54AM: Gibson also posted this extra excerpt from their chat with Alex Lifeson where Alex remarks on the recent passing of legendary guitarist Gary Moore:
... in the early '80s, he came on tour with us. And I think... I want to say we probably did two runs together. And my recollection of him is that he was a very sweet, gentle guy - quick to smile and really a lot of fun to be with, but so absolutely passionate about the instrument and about playing. "And it's really sad to see somebody like him go at a young age - it really is a young age. You know, he was the type of guy that [you thought] would be around forever and ever, playing like Les Paul, for example. You would always be able to go see Gary play in some little club or something, you know, in downtown New York or London, Soho... Ronnie [Scott's] or something like that. It's really a shame."
----- snip -----
UPDATE - 2/18@2:18PM: Eric at Power Windows points out in the comments that the DVD/BD that comes with the Moving Pictures 5.1 surround sound release will likely be the 5.1 mix, and the CD will be the stereo mix. This is based off the fact that the Porcupine Tree 5.1 mixes are on DVD-A disks.
The 53rd Grammy Awards ceremony took place this past Sunday in Los Angeles. The Rush documentary Rush: Beyond the Lighted Stage had been nominated in the Best Long Form Music Video category but ended up losing to The Doors documentary When You're Strange. This was Rush's first nomination in the Long Form Music Video category although they've been nominated 6 times in the past in the Rock Instrumental category, losing each time. None of the band members were in attendance at the ceremony but filmmakers Sam Dunn and Scot McFadyen were. Although Rush didn't fare well at the Awards, another Canadian band did. Montreal-based indie rock band Arcade Fire picked up Album of the Year for their album The Suburbs. In the aftermath of the ceremony, io9.com posted an article on Monday (thanks Tim) comparing the album to Rush's Signals:
... These are the very same suburbs that another Canadian rock band, Rush, sang about in 1982 in their single "Subdivisions," on hit album Signals. Except those suburbs were brand-new in the early 80s. While they were still dystopian, Rush attributed a very different kind of dark future to them. Instead of decay, Rush's suburbs represented consumerist conformity. People in them had futures that were, in one "Subdivisions" lyric, "predecided, in the mass production zone." Still, Rush's portrait of the suburbs' damaging role in our future feels positively innocent compared to what Arcade Fire explores in its song. ...

Speaking of Signals, in celebration of 40 years of the Juno Awards, the Juno Awards Facebook page is conducting a poll to select the Top 40 Canadian songs of the past 40 years and New World Man from 1982's Signals is one of the songs up for voting. The song was nominated for Single of the Year at the 1983 Juno Awards. So go vote for Rush! And while on the subject, although the Rush documentary did not win a Grammy, it still has a chance to win a Juno Award as it is nominated for Music DVD of the Year. Winners will be announced at the Juno Awards Ceremony at the Air Canada Centre on March 27th which will air on CTV. Rush won a Juno award in this category for Rush in Rio back in 2004.
Gibson.com posted their complete interview with Alex Lifeson online earlier this morning. They had posted a short excerpt from it earlier this week where Alex picked his top guitar riffs. In the full interview Alex touches on a number of subjects including the band's upcoming Clockwork Angels album:
... we had six songs written. [Caravan, BU2B] were the two we decided to record ... Geddy and I have been writing. We've been writing for the last couple of weeks and I think we've got the makings of another song. Pretty close. Some other snippets of ideas. Once we get back into the writing full-steam in the next week or so, with all those bits and pieces, I'm sure we'll be able to get at least another song or maybe two. In which case, I think we're looking at eight or nine songs as the magic number. ... we're back from this tour in July. We'll take a short break in the summer, start recording in September and hopefully have the new album out for the start of the next tour, which would be in the spring of 2012. ...
So Alex essentially confirmed the band's plan for a tour in 2012 after the album release. Not unexpected but nice to hear. He also elaborates on the band's reasoning behind keeping the setlist the same for the 2011 tour:
... it was kind of important that we continue the set just as it is - particularly in Europe and the U.K., 'cause they're kind of expecting what Time Machine was over here. So we've been tempted to change out a few songs, but we decided that we would keep everything intact. And we're really not hitting a lot of the markets that we've already played on the last tour. We're really picking up a lot of other places and certainly that whole month that we're spending in Europe is new. ...
Alex then provides some more background on the Vapor Trails remix, speaking about how special that album is to the band and how they came to the decision to remix it. You can read the entire interview at this link.
Earlier this week we learned that MusicTap had reported a release date of April 5th for the 5.1 surround sound remix of Moving Pictures:
Previously, we had mentioned the remastering (and remix) of Moving Pictures, the 1981 best-selling Rush album classic, which contains "Tom Sawyer". The schedule now lists it for April 5 with two available packages including a CD/DVD set, and a CD/BD set.
It's not yet clear what the contents of the DVD will be. Alex Lifeson had first mentioned that Rush would be releasing a 5.1 surround sound remix of Moving Pictures in a Planet Rock interview a few weeks ago and elaborated on it in his VH1 Classic Rock Nights interview the following week saying how pleased he was with the results. Rush engineer Richard Chycki gave some more insight into the remix in a recent blog post on his website. This past Saturday Moving Pictures celebrated its 30th anniversary since its release on February 12, 1981.
Back on December 15th Alex Lifeson participated in the 6th annual Andy Kim Christmas Show at The Mod Club in Toronto, ON. Along with Lerxst, several other prominent Canadian bands/musicians performed including Ron Sexsmith, Divine Brown and Platinum Blonde. All proceeds went to the Regent Park School of Music. After the show MSN Entertainment's Steve McLean wrote a series of articles where the participants share some of their Christmas memories. Here's what Alex had to say:
"I remember one time in particular when we lived on Glencairn Avenue by the Allen Expressway. We were not a very well-off family and I remember walking with my mom on a blustery winter night when it was snowing like crazy, and we walked to Bathurst, which was about a two-mile walk, to get a Christmas tree. We dragged it all the way back. I must have been seven years old when we did that together. It's imprinted in my memory like a photograph and I've never forgotten that. It made it that much more special when we got home and set up the tree.

"The last seven Christmases have been my favourite Christmases. I have a grandson who's seven years old and another grandson who's three, and the last few in particular have been very special and we're really looking forward to this one. This will be the first year that the three-year-old really gets Christmas, and he's so excited and freaked out and can't wait. He's already opened a couple of gifts and it's just halfway through the month. For me, Christmas is all about being with family and enjoying each other's company and really cementing that bond."



Earlier this week an interview with Neil Peart's Time Machine cymbals designer Wendy Cosman Parlee was posted in The Daily Gleaner. You can read the article at this link.

The Rush Backstage Club is running a new contest where entrants could win one of 4 Feedback dryer t-shirts from the R30 tour:
Fresh outta Geddy's dryer, win a RUSH DRYER T-SHIRT circa the Feedback tour! If you weren't lucky enough to catch a dryer shirt at a concert, you still have a chance to win one through the Rush Backstage Club. We have 4 of these psychedelic inspired tye-die tee's up for grabs. Enter today! * note that each t-shirt has unique tye-dye and coloring. The shirt that you win may not look exactly like the one seen in the photo.
The contest runs until February 22nd and you can sign up to enter at this link.
According to Alan Cross of ExploreMusic.com, the new Foo Fighters single Rope sounds a lot like old Rush:
I had a chance to hear the studio version of the still-as-yet-untitled Foo Fighters album. The track is "Rope" and will be delivered to radio stations at 7am ET on February 23rd.

So what does it sound like? In a word, Rush. The interplay between guitars, bass and drums could be an instrumental bit from A Farewell to Kings or bits of "La Villa Strangiato" from Hemispheres, complete with multi-park drum breaks and quick shifts in time signature. (YFI: Taylor Hawkins is a HUUUUUUUUUUUUUUUUGGGGGGGGGGGGGEEEE Rush fan. Dave is, too.)

It's certainly a very bold move for a first single. This is Dave's call, too. Sure, they could have gone with a "Learn to Fly"-style radio-friendly first single, but Dave overruled that, insisting that they go with "Rope" because it better captures the vibe of the recording sessions. (But don't worry; there are plenty of radio-friendly quintessential Foos on the the CD.) ...
As Cross mentions, the single is due to hit radio stations on February 23rd. But you can get an idea of how the track sounds by checking out this bootleg live version of the song. Cross also remarks that the live version doesn't do the studio version justice.
A few weeks ago Adventures of Power was released to DVD. Adventures of Power chronicles the adventures of air-drummer extraordinaire Power (played by filmmaker Ari Gold) and contains a cameo from Neil Peart along with a slew of Rush references including a Tom Sawyer air drum-off. It first hit the film festival circuit back in early 2008 and made its theatrical debut last fall. Back in 2009 Neil Peart and Ari Gold paid a visit to the Drum Channel studios to film an air drum-off video which you can check out here. The DVD contains over 60 minutes of bonus material including deleted scenes with Jane Lynch, a rare music video with Adrian Grenier, and the 25-minute Drum Channel interview and air drum-off with Neil Peart. There's a charity auction currently underway supporting music education via VH1 Save the Music which runs through March 16th. It features drums from Ringo Starr, Neil Peart, Lars Ulrich, Marky Ramone, Ween, Weezer, Judas Priest, Dresden Dolls, and many more. For more info visit adventuresofpower.com. Here's the film's official trailer. Ari Gold and Adrian Grenier were guests on the Adam Corolla show a few weeks ago to promote the DVD. Reader George listened to the podcast and made note of the parts where Rush and Neil Peart are discussed. At 30:50 Ari talks about some advice he received from Neil Peart on how to graciously accept both praise and criticism from the internet. At 42:20 Ari mentions Rush when talking about the charity auction. Beginning at about the 46:25 mark Ari instucts Adam on how to correctly pronounce Neil Peart's name. You can listen to the podcast at this link.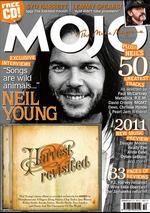 Reader RushFanForever picked up the latest issue of Mojo Magazine with Neil Young on the cover. There is a feature called the 50 Greatest Neil Young Songs which includes comments from other musicians on the songs selected. Number 8 on the list is Mr. Soul which Rush had covered on 2004's Feedback album. Here are Geddy Lee's comments:
"When we were growing up in Toronto, we were all big Buffalo Springfield fans and Neil Young was one of our first heroes. We used to play Mr. Soul when we were a struggling bar band. Neil Young is someone I really respect. At a tribute back in 1985 we did a Bryan Adams song with Joni Mitchell, Neil & other artists. David Foster was producing and after Neil Young sang his line, Foster said, 'Can you do it again? I think there's a bit out of pitch." But Neil said, "Hey man, that's my style!" And that was that!! That really summed up Neil Young for me. The guy's got big balls."
Reader turbinefright let me know of a Rush reference on last night's episode of ABC reality TV show Winter Wipeout. One of the contestants was named Tyler Rush Pechak. When the host asked where he got his name, Tyler said that it was his father's favorite band. The one host then says, hey! Pechak's my favorite band! and the co-host comes back with, I think he means Rush. You can check it out online at this link towards the beginning of the second segment (about at the 11:30 mark). There was also a Rush reference on Wednesday night's episode of the CBS crime drama Criminal Minds (Season 6, Episode 15 - Today I Do). In one scene the killer (Jane) is trying to seduce the boyfriend (Lyle) of the woman she has abducted (Molly). So she slips in a Rush bootleg of a live version of Closer to the Heart (although it sounds more like the version on A Show of Hands). Lyle, who is drinking a beer on the couch, perks up when he here's the song:
... Turn that up ... this is the best damn bootleg that Rush ever did! How did you know this was my favorite? ...
Rush had announced that the reference would occur in a Facebook post Wednesday evening stating that, If you watch tonight's episode of Criminal Minds, you'll hear Rush's "Closer To The Heart". You can check out the clip which contains the scene below or at this link. It occurs at around the 3:58 mark.
That's all for this week. Have a great weekend!