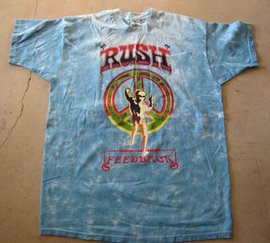 [Win a Feedback Dryer T-Shirt!]
The Rush Backstage Club is running a new contest where entrants could win one of 4 Feedback dryer t-shirts from the R30 tour:
Fresh outta Geddy's dryer, win a RUSH DRYER T-SHIRT circa the Feedback tour! If you weren't lucky enough to catch a dryer shirt at a concert, you still have a chance to win one through the Rush Backstage Club. We have 4 of these psychedelic inspired tye-die tee's up for grabs. Enter today! * note that each t-shirt has unique tye-dye and coloring. The shirt that you win may not look exactly like the one seen in the photo.
The contest runs until February 22nd and you can sign up to enter at this link. Thanks to LovLee for the heads up.