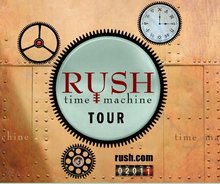 Pre-sales for the June 30th Rush show at the Rogers Arena in Vancouver ended yesterday and general ticket sales will kick off today at 10AM PST. The Rush 2011 Time Machine Tour itinerary now looks to be set at 38 dates. They'll play 13 shows in the Eastern US/Canada, head to Europe for 12 shows, then back to the US/Canada for another 13 shows in the South/West. There's always an outside chance they might add a date, but I haven't heard any news or rumors along those lines. Several ticket broker sites have been mistakenly listing a few August dates that correspond with shows that Rush had played last August. These listings are a mistake - Rush does not have any dates scheduled for this August.
With pre-sales now over, the focus shifts to questions regarding the setlist and stage show. Many of us were hoping that the band would change things up at a little bit for the 2011 leg, but we learned earlier this week from Alex Lifeson that this will likely not be the case. From Alex's Wednesday interview with UK digital radio station Planet Rock:
... We've decided to do exactly the same set that we were doing last year. We talked about changing out some stuff. Certainly we wouldn't add any other new stuff because we haven't really developed it yet beyond sort of that first stage of writing and arranging. But we thought it best to keep the show as it is. ....
In light of this news I thought I'd run a poll asking everyone what they think about it. Are you upset, happy, indifferent? Will you not see any shows because the setlist isn't changing? Are you giving up Rush for good to become a Justin Beiber fan? Take the poll and let us know. You can listen to the entire Alex Lifeson interview in this post.
In his Planet Rock interview Alex also made reference to the upcoming re-release of their back catalog that we've been hearing about since last year. He specifically mentioned that the Moving Pictures re-release would be in 5.1. And in some seemingly related news, Classic Rock magazine reported yesterday that Alex relayed some good news to them regarding the much-anticipated re-mix of Rush's 2002 album Vapor Trails:
Rush are planning to totally remix their 2002 album Vapor Trails. Talking exclusively to Classic Rock, guitarist Alex Lifeson revealed: "We were never happy with the production. Perhaps we should have taken more time over the record. But now we've got the chance to improve things. There will be no re-recording, just a remix". ...
This is welcome news to many Rush fans who have been widely critical of Vapor Trails over the years for its production and sound quality issues. Re-mixes of 2 tracks from the album - One Little Victory and Earthshine - were included on Rush's 2009 compilation album Retrospective 3 and were generally well-received by fans. Richard Chycki assisted in the remix these 2 tracks and it's assumed he would also be involved with the remixing of the entire album.
The list of 2011 Juno Award nominees (the Canadian equivalent of the US Grammy Awards) was announced Tuesday morning. The Rush documentary Rush: Beyond the Lighted Stage was nominated for Music DVD of the Year. Winners will be announced at the Juno Awards Ceremony at the Air Canada Centre on March 27th which will air on CTV. Rush won a Juno award in this category for Rush in Rio back in 2004. The documentary has also been nominated for a Grammy Award in the Best Long Form Music Video category; the Grammy Awards ceremony will take place on February 13th at 8PM and air on CBS.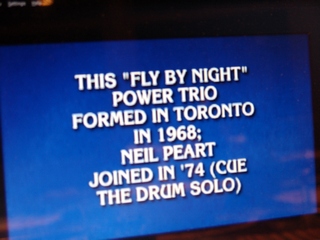 One of the categories on this past Monday night's episode of the American quiz show Jeopardy! was Music From Canada, and Rush was the subject of the $1000 question:
This "Fly By Night" power trio formed in Toronto in 1968; Neil Peart joined in '74 (cue the drum solo)
The contestant answered the question correctly although the host Alex Trebek mispronounced Peart. :) You can watch the video at this link.
Last week we learned the exciting news that Neil Peart's 5th full-length book is titled Far and Away: A Prize Every Time and is due to be released via ECW Press this coming May 1st. In celebration of this news, for last week's poll I asked everyone which of Neil Peart's 4 full-length books was their favorite. The winner with nearly half the vote was Ghost Rider: Travels on the Healing Road. You can view the complete results at this link.
The new book from former Metal Maniacs editor Jeff Wagner - Mean Deviation: Four Decades of Progressive Heavy Metal - was finally released this past December. Rush is prominently featured in the book as one of the early pioneers of the progressive metal genre. There's even a chapter titled By Tor and The Gates Of Delirium. You can read some reviews of the book here and here, and learn more about the book at the publisher's website. Wagner was a guest on internet talk show Used Bin Radio this past Tuesday. The podcast of the show should be posted online at this link within the next few weeks. Speaking of past Used Bin shows, Vertical Horizon frontman and friend of Neil Peart (F.O.P for short) - Matt Scannell - was a guest on the show earlier last month and the podcast was finally posted earlier this week. Matt has a great conversation with hosts Brad and Joe and talks a good bit about his collaboration and friendship with Neil Peart. You can listen to the podcast at this link.

We learned last week that the 2012 Rush wall calendar will celebrate the 30th anniversary of the release of Rush's Signals on September 9th, 1982. Along with this official wall calendar, Mead Calendars will be releasing their own version of a Rush 2012 calendar. There aren't many details yet outside of an advertisement that was listed in their most recent catalog which you can check out in this screenshot. It's also listed on their website but is not yet available for sale. Thanks to plunge for the scan and the heads up.
Several of you sent me this link from The Poop blog at the San Francisco Chronicle. It's titled An open letter to my wife, who hates Rush and describes in humorous fashion author Peter Hautlaub's attempts to convince his wife of the awesomeness of Rush.

The 2011 Winter NAMM show took place a few weekends ago at the Anaheim Convention Center and Neil Peart's Time Machine Tour kit was on display. Reader sjwdrummer let me know that DW Drums is now selling a collectible reproduction of the snare drum from this kit. For details check out this link at the DW Drums site.
Jews and Baseball: An American Love Story is a 2010 documentary film narrated by Dustin Hoffman, written by Pulitzer Prize winner Ira Berkow, and directed by Peter Miller. It is about the connection and history between American Jews and baseball. Reader Kelly let me know that Rush's Hope from Snakes & Arrows is included on the soundtrack.


The popular 2009 comedy bromance I Love You Man starring Jason Segel & Paul Rudd featured Rush as an integral part of the storyline and even included a concert performance cameo from the band. It was one of the major factors in Rush being propelled into pop culture prominence over the last couple of years. As an ode to the band's appearance in the movie, Segel & Rudd along with Geddy, Alex and Neil filmed a short 5-minute-plus sequel to the film called I Still Love You Man which was shown at the end of Rush's live shows on the 2010 Time Machine Tour. The short film features a backstage encounter with Rush and the 2 friends from I Love You Man - Sydney Fife and Peter Klaven played respectively by Segel and Rudd. Actor Jason Segel uploaded the full 5-minute-plus movie to Funny or Die earlier this week and you can check it out below or at this link.
That's all for this week. Many thanks to everyone for all of the birthday wishes! Have a great weekend.