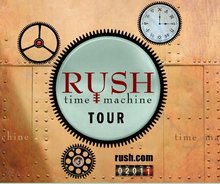 UPDATE - 2/1@7:05AM: The fan pre-sale is now listed at the Music Today site and will begin at 10AM PST.
UPDATE - 1/31@1:13PM: The show is now listed at Ticketmaster. As expected, there will be RUSHVIP and AMEX Front of the Line pre-sales beginning tomorrow, February 1st at 10AM PST. They also listed that other various pre-sales will begin on Wednesday, February 2nd. Although not yet listed at the Music Today website, I expect there will also be a fan pre-sale beginning tomorrow morning at 10AM.
There has been a lot of confusion over the last couple of weeks regarding the status of the supposed Rush show on June 30th at the Rogers Arena in Vancouver. When the dates for the 2nd North American leg of the 2011 Time Machine Tour were announced a couple of weeks ago it was mentioned that a Vancouver date would occur but no details were given at the time. Then later that week the Rush iPhone app began listing the show as scheduled for June 30th at Rogers Arena, but sometime last week the date was removed from the app's listings. Now it looks like this June 30th date at Rogers Arena has finally been officially confirmed as reported by Classic Rock 101 and listed at Rush.com. Tickets go on sale this Friday, February 4th through Ticketmaster although it's not listed as of yet. That means that if there are pre-sales they will take place this week, likely starting tomorrow. I'll keep this thread updated with information as we learn it. Thanks to hermy for the heads up.
Related Posts:
[Rush 2011 Time Machine Tour pre-sale info and open thread]
[Rush 2011 Time Machine Tour pre-sale info and open thread]
[More North American dates for Rush's Time Machine Tour 2011]
[Rush 2011 Time Machine Tour pre-sale info and open thread]
[Rush 2011 Time Machine Tour MSG pre-sale open thread]
[Rush to film April 15th show at Quicken Loans Arena in Cleveland]
[Rush 2011 Time Machine Tour ticket sale and pre-sale info]
[Rush 2011 Time Machine Tour pre-sale info and open thread]
[Rush 2011 Time Machine Tour North American dates announced]
[Rush Time Machine Tour Dublin pre-sale; Helsinki & Sweden added]
[Rush Time Machine Tour 2011 UK/Ireland pre-sales open thread]
[Rush Time Machine Tour 2011 official announcement!]