UPDATE - 10/23@9:28AM: John Arrowsmith has finally had a chance to post all of the official photos for the South American shows to the Rush.com Multimedia: Rush on the Road section. There are some really nice photos in this batch including a bunch of great crowd shots. Thanks John!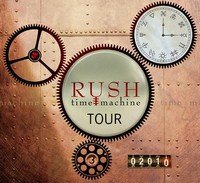 Rush's 2010 Time Machine Tour came to a close this past weekend in front of more than 40,000 Chilean Rush fans at the National Stadium in Santiago. Rush dedicated Stick It Out to the 33 recently rescued Chilean miners while displaying a picture of the miners on screen, and Alex Lifeson used a guitar with the number 33 displayed on it for a portion of the show. They also played to over 15,000 Argentinean fans at GEBA Stadium in Buenos Aires last Friday night. Rush had never played either of these two countries before and both shows were a great way to cap off a highly successful tour for our favorite Canadian trio. Billboard released the official attendance figures for the US portion of the Time Machine Tour yesterday and Rush made the #1 spot on Billboard's Hot Tours chart this week. You can check out all of the specific attendance figures in this post or in the tour section.
Now that the tour is over I thought I'd ask everyone what they thought was the highlight of the Time Machine Tour setlist. And to make it more interesting, I've removed all the tracks from Moving Pictures from consideration. So other than any of the songs off of Moving Pictures, what do you think was the highlight of the setlist? Take the poll and let us know. In my last poll I asked everyone what their favorite song off of Caress of Steel was in celebration of the album's 35th anniversary. It was a close race but The Fountain of Lamneth edged out the competition with 29% of the vote. Coming in 2nd was Bastille Day with 25% and rounding out the top 3 was The Necromancer with 23%. You can view the complete results at this link, and you can view results from all of the past polls on the poll archive page.
I continue to hear from some very credible sources that planning is already underway for a 2nd leg of Time Machine Tour to take place next Spring/Summer. I don't have any details yet, but judging by how the 2nd leg of the Snakes & Arrows tour went, they'll likely change up a few songs on the setlist but otherwise keep the show intact. I also have to assume that they'll make an effort to hit several cities that they missed the first time around as well as consider transporting the Time Machine across the Atlantic for a few European dates. Hopefully some more concrete information will be revealed in the coming weeks. As of right now though, I'm sure the band and crew is looking forward to some well-deserved time off.
Although the tour is over, Rush fans in Brazil aren't done celebrating just yet. On December 18th the Rush Fan Club Brazil will be hosting their Rush Fan Club Brazil Fest at the Rock N' Drinks Bar in Copacabana, Rio de Janeiro. For more information go to this link.

Earlier this year Canadian sports network TSN collaborated with Rush's Neil Peart to develop a new drum-centric version of the iconic Hockey Theme. The song was recorded at Ocean Way Studios in Hollywood on December 7th, 2009 and debuted during a Toronto Maple Leafs game back in February. Back in March, the Drum Channel released a 9-minute Making of The Hockey Theme video to their website and mentioned that a full-length making of DVD would be made available at a later date. As promised, The Drum Channel has produced a 90-minute making of DVD titled Neil Peart: Fire on Ice, Making of The Hockey Theme which can be purchased at this link. You can also watch this short YouTube preview video.
Back in late 1989 several heavy metal and hard rock artists gathered at the now historic Metropolis Studios in London for a project to raise money to help those affected by the December 7th, 1988 earthquake in Gyumri, Armenia. It was called Rock Aid Armenia - The Earthquake Album and was released in 1990. This humanitarian album project consisted of original tracks by the bands of the different contributors (including The Spirit of Radio from Rush) and a popular re-recording of one of Deep Purple's famous hit songs Smoke on the water, with different vocalists singing each verse. Contributors included Bryan Adams, Geoff Beauchamp, Ritchie Blackmore, Bruce Dickinson, Jeff Downes, Keith Emerson, Ian Gillan, David Gilmour, John Paul Jones, Tony Iommi, Jon Lord, Brian May, Paul Rodgers, Chris Squire, Roger Taylor and Rush's own Alex Lifeson. A 20th anniversary re-release of the Smoke on the Water track along with a making-of DVD titled Smoke on the Water: the Metropolis Sessions will be released next month on November 22nd and is available for pre-order here. An mp3 version of the CD is already available for download at this link. You can watch the original video for the song at this link and catch glimpses of Alex Lifeson at the 1:44, 2:13, 3:25 and 4:03 marks.

Reader John T created this really cool collage photo of Alex, Neil and Geddy from the August 18th show at Red Rocks. He's made it available for purchase as a 12"x18" matte finish photo. You can check it out at this link.
Reader chutch15 let me know about a Rush reference in this past week's episode of the Venture Bros on Cartoon Network's Adult Swim (season 4, episode 14: Assisted Suicide). In one scene Dr. Orpheus tries to access Dr. Venture's soul and needs help from the doctor's most beloved things. At one point, he tries a box of trinkets which includes a Rush tape. When it doesn't work, another character suggests trying again bit without the Rush tape saying Here's the problem. It's a best-of. The next try works and they say It must have been the Rush tape.

While checking out some photos from Rush's show in Santiago, reader tgolic happened upon some galleries of other bands including American alt-rockers the Pixies, who recently played a show in Chile as well. In this photo, Pixie drummer David Lovering is shown behind his kit sporting a Rush Fly By Night t-shirt. Cool.
Reader Rich B noticed this link where you can vote for your favorite rock band for the People's Choice Awards. Rush is not surprisingly excluded from the ballot, but there is a write-in slot. So go write-in a vote for Rush if you are so inclined.
Documentary filmmaker Eric Green is in the process of filming a documentary about the now defunct Boston music video TV channel V66, which was on the air in the mid 80s. According to several sources Green has spoken to, the channel apparently did a special with Rush at some point where the band was interviewed and several Rush music videos were featured. So far he's been unable to dig up any video from this special, so he's asking the help of the Rush fan community. So if you know anything about the special or - better yet - have video of it, please let me know and I'll pass the information on to the filmmakers.
It's hard to believe, but tomorrow will mark the 5th anniversary of my first official post on rushisaband.com. I started the site because I noticed that despite the rich online Rush community, there weren't any sites at the time which provided an unfiltered Rush news feed/blog. I had the ability and the means, so I decided to take on the endeavor myself and was amazed at where it took me. I just want to take a moment to thank all of the Rush fans who have visited my site over the years and have helped me out by offering words of encouragement, contributing links, posting comments and sending me Rush-related news and information. A special thank you to everyone who has clicked on an ad, purchased products through my Amazon links or made a donation to the site. I wouldn't be able to keep the site up and running without your help. Thanks!
Here's the video of Geddy's shout-out to the 33 rescued miners:
That's it for this week. Have a great weekend!