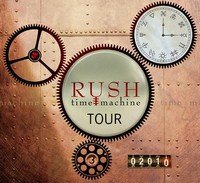 [Hot Tours: Rush, Toby Keith, Brad Paisley]
UPDATE - 10/22@5:19PM: Paul at The Canadian Music Scene did some investigating as to why the Billboard article didn't include the tour numbers from June 29th to July 24th. He received a reply/explanation from Billboard which you can check out at this link. Thanks Paul!
UPDATE - 10/21@7:19PM: Rush's Time Machine Tour took the number one spot on Billboard's Hot Tours chart this week. From Billboard.com (thanks Geddimus Prime):
Rush takes the No. 1 ranking on Hot Tours chart with totals reported from the Time Machine Tour that played North American venues from late June through early October. The tour schedule included concerts at outdoor amphitheaters and arenas along with appearances at state fairs in Minnesota (Aug. 27), New York (Sept. 2),and an Aug. 31 stop at the Great Allentown Fair in Allentown, Pa. which celebrated its 158th year of operation. The top gross among the reported concerts came from a two-performance engagement at Red Rocks Amphitheatre in Morrison, Colo. The Denver-area outdoor venue sold more than 16,000 tickets for both shows (Aug. 16, 18) grossing just over $1.5 million. The largest amphitheater crowd for a single performance came from the Houston market with 15,225 fans in attendance at the Cynthia Woods Mitchell Pavilion on Sept. 25. Among the arenas on the schedule, the MGM Grand Garden in Las Vegas produced the top gross with $993,351 in sold tickets for a concert on Aug. 14. The best attendance among the arenas was at Nationwide Arena in Columbus, Ohio. The 20,000-seat venue's Aug. 29 performance drew 11,402 fans.

This year's Time Machine Tour is the first major concert outing for Rush since the Snakes & Arrows Tour in 2007-2008 that grossed over $52 million. The Canadian rockers, who are currently working on a new album to be released in 2011, are the 2010 recipient of the Legends of Live Award to be be presented at the Billboard Touring Conference in New York City on Nov. 4. ...
----- snip -----
The official Billboard Boxscore attendance and sales figures for all 35 US dates on the North American leg of the Time Machine Tour were released yesterday. We already had data for the July 17th show in Toronto, so that just leaves the 4 remaining Canadian dates without any reported attendance figures. Keep in mind that the capacity figures reported do not correspond to the actual physical capacity of the venue; it reflects the number of tickets that were made available for sale. That said, the only show that sold out so far was the July 17th show in Toronto. For some reason Billboard decided to lump the figures for the 2 shows at Red Rocks as well as the 2 Chicago shows, so I simply split those numbers down the middle. Therefore it's not really clear how each show did individually. The most-attended show was the Sept. 25th show in Houston and the highest-grossing was the July 17th show in Toronto (even taking into account that the amount was in Canadian dollars). I've already added the figures to the tour section and will try to add them to each individual show's open thread as I have the time. Here are the numbers:
Tue, Jun 29: Hard Rock Pavilion - Albuquerque, NM
Attendance / Capacity: 6624 / 8516
Gross Ticket Sales: $384,086

Thu, Jul 1: Starlight Theatre - Kansas City, MO
Attendance / Capacity: 6042 / 7733
Gross Ticket Sales: $428,754

Sat, Jul 3: Marcus Amphitheater - Milwaukee, WI
Attendance / Capacity: 14521 / 22895
Gross Ticket Sales: $669,185

Mon, Jul 5: Charter One Pavilion - Chicago, IL
Attendance / Capacity: 6247 /7068
Gross Ticket Sales: $568,858

Sat, Jul 17: Air Canada Centre - Toronto, ON
Attendance / Capacity: 12191 / 12191
Gross Ticket Sales: $1,258,740 CND

Mon, Jul 19: Mohegan Sun Arena - Uncasville, CT
Attendance / Capacity: 5291 / 7626
Gross Ticket Sales: $452,430

Wed, Jul 21: Susquehanna Bank Center - Camden, NJ
Attendance / Capacity: 9760 / 14880
Gross Ticket Sales: $696,214

Fri, Jul 23: SPAC - Saratoga Springs, NY
Attendance / Capacity: 8297 / 13977
Gross Ticket Sales: $575,493

Sat, Jul 24: Nikon at Jones Beach Theater - Wantagh, NY
Attendance / Capacity: 13586 / 14090
Gross Ticket Sales: $1,022,344

Thu, Aug 5: USANA Amphitheatre - West Valley City, UT
Attendance / Capacity: 8660 / 14500
Gross Ticket Sales: $558,868

Sat, Aug 7: White River Amphitheatre - Auburn, WA
Attendance / Capacity: 11742 / 15865
Gross Ticket Sales: $855,997

Mon, Aug 9: Shoreline Amphitheatre - Mountain View, CA
Attendance / Capacity: 13994 / 14852
Gross Ticket Sales: $695,844

Wed, Aug 11: Gibson Amphitheatre - Universal City, CA
Attendance / Capacity: 5455 / 5954
Gross Ticket Sales: $705,455

Fri, Aug 13: Verizon Wireless Amphitheater - Irvine, CA
Attendance / Capacity: 12403 / 14956
Gross Ticket Sales: $870,119

Sat, Aug 14: MGM Grand Garden Arena - Las Vegas, NV
Attendance / Capacity: 9591 / 10258
Gross Ticket Sales: $993,351

Mon, Aug 16: Red Rocks Amphitheatre - Morrison, CO
Attendance / Capacity: 8188 / 8660
Gross Ticket Sales: $750,685

Wed, Aug 18: Red Rocks Amphitheatre - Morrison, CO
Attendance / Capacity: 8188 / 8660
Gross Ticket Sales: $750,685

Fri, Aug 20: INTRUST Bank Arena - Wichita, KS
Attendance / Capacity: 5119 / 6676
Gross Ticket Sales: $382,710

Sun, Aug 22: Verizon Wireless Amp - Maryland Hts, MO
Attendance / Capacity: 11008 / 13000
Gross Ticket Sales: $614,821

Mon, Aug 23: Charter One Pavilion - Chicago, IL
Attendance / Capacity: 6247 /7068
Gross Ticket Sales: $568,858

Wed, Aug 25: Qwest Center - Omaha, NE
Attendance / Capacity: 6236 / 7461
Gross Ticket Sales: $479,519

Fri, Aug 27: Minnesota State Fair - St. Paul, MN
Attendance / Capacity: 12882 / 13248
Gross Ticket Sales: $779,606

Sun, Aug 29: Nationwide Arena - Columbus, OH
Attendance / Capacity: 11402 / 12354
Gross Ticket Sales: $831,186

Tue, Aug 31: Allentown Fairgrounds Grandstand - Allentown, PA
Attendance / Capacity: 9622 / 9694
Gross Ticket Sales: $706,830

Thu, Sep 2: New York State Fair Grandstand - Syracuse, NY
Attendance / Capacity: 12364 / 17367
Gross Ticket Sales: $710,980

Fri, Sep 3: PNC Bank Arts Center - Holmdel, NJ
Attendance / Capacity: 10974 / 14000
Gross Ticket Sales: $784,117

Tue, Sep 14: TD Garden - Boston, MA
Attendance / Capacity: 11331 / 11903
Gross Ticket Sales: $948,004

Thu, Sep 16: Consol Energy Center - Pittsburgh, PA
Attendance / Capacity: 11053 / 11487
Gross Ticket Sales: $687,691

Sat, Sep 18: Jiffy Lube Live - Bristow, VA
Attendance / Capacity: 13999 / 16639
Gross Ticket Sales: $866,704

Tue, Sep 21: BOK Center - Tulsa, OK
Attendance / Capacity: 7110 / 10027
Gross Ticket Sales: $577,753

Thu, Sep 23: AT&T Center - San Antonio, TX
Attendance / Capacity: 9289 / 11326
Gross Ticket Sales: $731,550

Sat, Sep 25: Woodlands Pavilion - The Woodlands, TX
Attendance / Capacity: 15225 / 15858
Gross Ticket Sales: $897,778

Sun, Sep 26: Superpages.com Center - Dallas, TX
Attendance / Capacity: 11420 / 13715
Gross Ticket Sales: $723,024

Wed, Sep 29: Verizon Wireless Amphitheatre - Alpharetta, GA
Attendance / Capacity: 11437 / 12086
Gross Ticket Sales: $745,988

Fri, Oct 1: 1-800-ASK-GARY Amphitheatre - Tampa, FL
Attendance / Capacity: 11418 / 13415
Gross Ticket Sales: $728,923

Sat, Oct 2: Cruzan Amphitheatre - West Palm Beach, FL
Attendance / Capacity: 10647 / 15116
Gross Ticket Sales: $611,647